Quick Summary: When searching for the best cereal bowls, there are factors to consider and characteristics to look for such as cost, versatility, ease of cleaning and more. Considering these important factors, we ultimately chose the Corelle Soup/Cereal Bowl Set as our top pick. The Corelle Soup/Cereal Bowl set offers lightweight durability at a great price.
If like everyone you also crave to add excitement to your day with the crunchiness of cereals then you must definitely know the importance of a good cereal bowl.
We all know that eating cereal in a regular bowl takes away half of the joy from this wholesome dish, this is why you need to have the best cereal bowl. Materials like porcelain, ceramic, plastic, and steel give the most durable and reliable structure to cereal bowl set.
A regular bowl is usually circular in shape and is designed with nominal dimensions, on the other hand, a cereal bowl is extra wide and open so it can easily accommodate cereal with milk and additional eatables. You may think that cereal bowls can only be used for cereal but these bowls are versatile in their function.
This means that you get the option to utilize such bowl set for serving salads, desserts, fruits, etc. As compared to main cutlery items like plates and dishes, cereal bowls are smaller in size which means that cleaning them is not a hassle.
However, if you want to get them cleaned thoroughly, then even that is not a problem as the majority of cereal bowl set are dishwasher safe. With all these features and more-you would think that such bowls must be expensive; however, the best bowls are reasonably priced.
So the next time you buy your most favorite cereal, don't forget to pair it with the best cereal bowl.
Quick Navigation:
---
Comparison of 10 Best Cereal Bowls
| | | |
| --- | --- | --- |
| | These 18-ounce fine quality bowls are built with durable and strong material. Its exemplary heat resistance has made it safe for use in the oven and microwave. With a soothing white color, these bowls are surely one of the best cutlery items to have. | Read Our Review |
| | Sonoma plastic bowls are most suitable to use in outdoor settings as they are shatterproof. These bowls have a great size structure and are vibrantly colored to add an element of fun to boring, regular cutlery. | Read Our Review |
| | 2 Packs of smartly designed bowls have made cereal eating and serving a whole lot easier. The divided design of these bowls lets you make the most of your meals. A 100% strong refund policy accompanies this bowl set to protect user's rights. | Read Our Review |
| | No item can give you peace of mind like the RushGo's heavy-duty stainless steel bowls. These bowls fight away stains and scratch to serve you in the best way. Its double-walled construction keeps it well protected in maximum heat settings. | Read Our Review |
| | This set of 4 stainless steel bowls is the most reliable item to own. Its BPA free structure saves your food from getting affected by toxins and chemicals. These sturdy bowls can resist the toughest of stains and will always remain rust-free. | Read Our Review |
| | The beautiful craft and artistic design backing Sweese's porcelain bowls have turned them into a masterpiece. Lead-free ceramic serves as the main base for these bowls making them microwave and oven safe. | Read Our Review |
| | Delling cereal bowls are built with the finest quality of ceramic which is supported with a wide hexagonal shape structure. These bowls can bear warm temperature settings up to 520 degrees and are thus, perfectly safe to be used in microwave and oven. | Read Our Review |
| | Dowan ceramic bowls are perfect in size and can hold up to 22 ounces of food. With a weight of only 3.6 pounds, these bowls are one of the easiest to hold and manage because of its lightweight construction. | Read Our Review |
| | Corelle bowl set comprises of 6 bowls. Each bowl is designed in a way that it can store 18 ounces of different food content. The ultra-strong material of these bowls increases its resistance, making them chip-free and durable. | Read Our Review |
| | Fresco's plastic bowls represent a unique combination of safe design and multi-use functionality. These well-built plastic bowls are 100% shatterproof. Since these bowls are dishwasher safe, this means that with these bowls you get the best service along with convenience! | Read Our Review |
---
Reviews of 10 Top Cereal Bowls
In our search for the top cereal bowls, we analyzed the reviews and opinions of experts and buyers. Out of all the options we sifted through, we were able to get our list down to the following ten cereal bowl set based on durability, price, versatility, and ease of cleaning.
Best Overall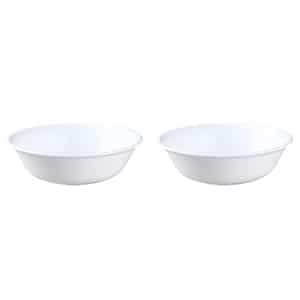 What You Will Love: These cereal bowl set are made with three layers of Vitrelle glass for durability.
This Corelle Soup/Cereal Bowl comes with six winter frost white cereal bowl sets that are dishwasher and microwave safe.
The three layers of Vitrelle glass are lightweight and yet very durable. They are thin, nonporous, easy to clean, and space efficient.
Though they are break and chip resistant, buyers state that when they do break, they shatter into many pieces. This means that if one breaks, you will need to clean thoroughly to make sure no pieces cut little feet.
Pros:
Made with three layers of durable glass
Thin, nonporous
Dishwasher and microwave safe
Set of 6 for a very good price
Easy to clean
Space-efficient
Lightweight, break and chip resistant
Cons:
If it breaks, you will have a lot of cleaning to do
---
Best Budget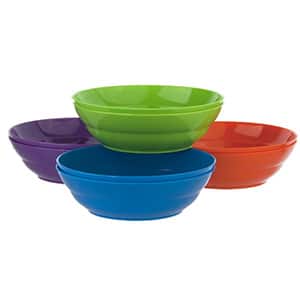 What You Will Love: This set comes with 8 bowls that are made with unbreakable polypropylene plastic.
The Sonoma heavyweight plastic bowl set comes with 8 bowls in 4 different colors. They are BPA free and can be washed in the dishwasher on the top rack only.
The set is stackable for storage efficiency, great for kids, and is a really reasonable price typically ranging between $10 and $15. The only downside is that they are not good in the microwave.
So though you can use them as pasta bowls as well as cereal bowl sets, do not use them to heat things up.
Pros:
Unbreakable
Heavy-duty plastic
Dishwasher safe
8 cereal bowl sets at a reasonable price
Versatile uses
Stackable
Cons:
May be ruined if washed on the bottom rack or used in the microwave
---
Best Anti-Soggy Cereal Bowl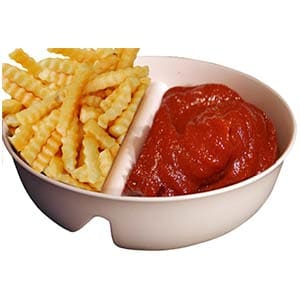 What You Will Love: This 2 pack cereal bowl set comes with two compartments to keep liquids separate from solids.
The Just Crunch Anti-Soggy Cereal Bowl Set are handy kitchen gadgets.
While they are excellent for cereal, they are also useful for other food combinations such as fries and ketchup, chips and salsa, or hot and cold items such as soup and salad.
I love chips and salsa but hate soggy chips. I would love to have these cereal bowl sets for snack time.
These divided bowls are lightweight, BPA free, microwave and dishwasher safe, and easily stackable. With prices generally ranging under $20, the Just Crunch cereal bowl sets are a great solution for soggy food at a great price.
The only downside I could find is that according to the pictures, the larger side is supposed to be for cereal.
However, users have stated that if you go by the picture, you will have much more milk than cereal so they use the smaller side for milk.
Pros:
Durable, stackable for storage efficiency
Microwave safe
Dishwasher safe
Great for multiple food combinations
2 white cereal bowl sets in each pack
Great price
Cons:
Have to use opposite of the picture for good milk to cereal ratio
---
Best Insulated Cereal Bowls Set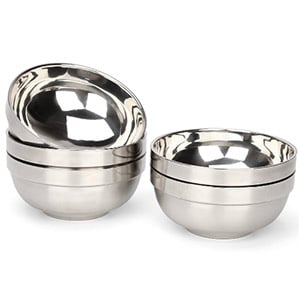 What You Will Love: These double-walled insulated bowls are great for keeping cold foods cold and hot foods hot without burning your hands.
These brushed stainless steel cereal bowl sets not only look great but function well. The set comes with five 13 oz bowls that are BPA free, corrosion-resistant, and scratch-resistant.
They are excellent at keeping your food the temperature it is supposed to be. This means that your ice cream will stay cold if you have to walk away. I love that idea.
Though they cannot be used in kitchen appliances such as a microwave or oven, they are both dishwasher and freezer safe. They are also stackable and will not easily tip over.
As with any stainless steel item, you will see fingerprints. And, though they are corrosion resistant, stainless steel can rust if it is not dried.
With the price generally ranging between $15 and $20, this RushGo set is an excellent investment.
Pros:
Five 13 oz cereal bowl sets
Corrosion and scratch resistant
Keeps your food's temperature
Dishwasher and freezer safe
Stackable
Great price
Cons:
Stainless steel can rust
Holds fingerprints
---
Best Stainless Steel Cereal Bowls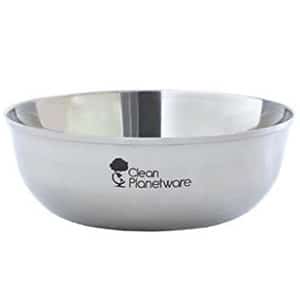 What You Will Love: They are made with unbreakable food grade stainless steel.
This Clean Planetware set is great to use ascereal bowl sets or dinner bowls. They are BPA free and contain no linings or toxins.
The cereal bowl sets are made with unbreakable food grade stainless steel that is easy to clean, stain resistant, rust resistant, easily stackable and dishwasher safe.
The only downside I could find for this Clean Planetware set is the price. Coming in between $40 and $60 depending on the seller, this set may not fit into every budget.
However, if you can find the room in your budget, they will last you for a long time, making them a good investment.
Pros:
Versatile uses
Very durable
Food grade stainless steel
BPA free, stain and rust resistant
Dishwasher safe
Cons:
May be too expensive for some budgets
---
Best Porcelain Cereal Bowl Set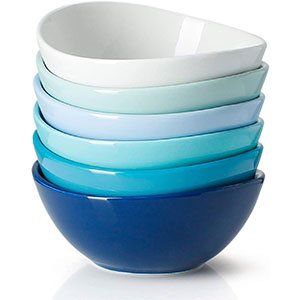 What You Will Love: The well-crafted design, solid structure, and safe design make Sweese's porcelain bowls one of the perfect items to use for eating cereal, salads, and desserts. Additionally, its compact size helps in easily stacking and storing these bowls.
Bring convenience and style to your breakfast table with Sweese's high-quality porcelain cereal bowl sets.
Versatility
Owing to the premium grade ceramic used in these cereal bowl sets, they can be conveniently placed in the refrigerator because they are freezer safe. Similarly, you can use them for heating food in the microwave and the microwave-safe design will protect its overall design.
Durable
Porcelain bowls are usually delicate items to handle, however, these cereal bowl sets are manufactured with such advanced technology that they are chip resistant. Additionally, this bowl is made from lead and toxic free ceramic.
Design
The curved structure and beautiful colors of these cereal bowl sets have transformed it from regular cutlery to an exquisite item for serving food.
Pros:
Smartly designed
Safe to use in microwave and oven
Built from lead-free porcelain
Cons:
---
Best Designed Cereal Bowl Set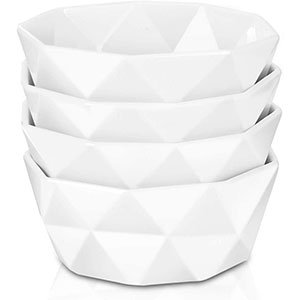 What You Will Love: Nothing describes a perfect bowl better than Dellings's cereal bowls. The unique geometric shape of these bowls and smooth structure will mesmerize you instantly. These cereal bowl sets are chip resistant and compatible to use in the oven and microwave.
Make your mornings perfect and better with a generous serving of cereal in Delling special cereal bowl sets.
Easy To Store
The shape and design of these cereal bowl sets are different than the common contemporary bowls, thus they can be easily stacked and stored together in a cabinet. This feature helps in giving you extra storage space.
Safety
These environment-friendly bowls ensure that your food does not come in contact with dangerous chemicals and toxins. The porcelain used in these cereal bowl sets is heat resistant and can bear temperatures up to 520 degrees which means that these can be used in the oven and microwave as well.
Easy To Clean
You might think that white bowls get dirty quickly and how to clean them. This concern does not hold to be true for Dellings porcelain bowls as they are dishwasher safe.
Pros:
Easy to clean
Heat resistant structure
Chip resistant
Cons:
---
Best Chip Resistant Cereal Bowls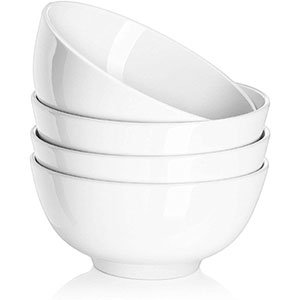 What You Will Love: If you are looking for well-made, long-lasting bowls then Dowan's ceramic bowls are exactly what you need. These cereal bowl sets have a circular shape structure like other common bowls but the smooth colored polish surrounding it has made it an elegant item to use for serving.
Whether it's a bland soup, healthy salad, or melting ice cream-everything becomes better once it is served with Dowan's ceramic bowls.
Lightweight
Unlike other bowls, Dowan's ceramic bowls weigh only 22oz which makes them lightweight. Even if you fill these cereal bowl sets with cereal, soup or salad-they remain easy to carry and hold.
Durability
The sturdy structure of these cereal bowl sets protects them from every sort of bumps, scratch, and chipping. You can also use these bowls for heating food in the microwave and oven or make use of them for cooling food as they are refrigerator safe.
Storage Capacity
Dowan's bowls have smooth edges and are extra wide. They have the capacity to hold 22oz of soup, dessert, cereal, salad etc.
Pros:
Has a capacity of 22oz
Dishwasher safe
Remains chip-free
Cons:
---
Best for Durabilty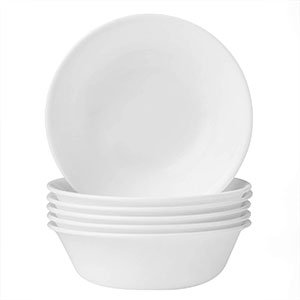 What You Will Love: This set of 6 shining white bowls will add a touch of finesse and grace to your cutlery. These 18ounce bowls are most suitable to use for having cereal, salads, fruits, desserts, and snacks.
A durable structure and complementing design pattern have made Corelle cereal bowl sets the most favorite product of every household for regular use.
Heat Resistant
Built with high-quality material these cereal bowl sets perform the best when used in microwaves and ovens. Its heat resistant design keeps it protected from cracking and chipping in intensive hot settings.
Design
The wide rim of these bowls and a circular base has made this cereal bowl sets super easy to stack and pile over one another. You don't have to struggle with finding extra space for these bowls as they will easily fit in kitchen corners and cabinets.
Easy To Clean
For your convenience and ease, these cereal bowl sets are strengthened with a solid body which makes it safe to clean through a dishwasher.
Pros:
Affordable
Made from toxic-free material
Easy to store
Cons
As compared to other bowls, this set has less capacity to offer
---
Best for Multi-purpose Cereal
What You Will Love: Tired of tiptoeing around with delicate ceramic and glass bowls? let Fresco's plastic cereal bowls save you from such worries. These cereal bowl sets are children friendly and perfect to use in outdoor settings as well.
Due to its safe structure and spacious design Fresco's 8 piece bowl set has become a winner with users as it has managed to cater to all of their needs.
Durability
These cereal bowl sets are produced with polypropylene plastic which is free from BPA. This does not mean that this bowl set is flimsy and low quality like disposable items, rather it is high in quality and easy to handle.
Additional Features
Fresco's bowls are available in bright colors. The color coating of these cereal bowl sets will not fade away with time and stays intact by continuing to enhance its overall look.
Design
The shatterproof body of these cereal bowl sets gives it an edge over other similar products. Also, its sturdy structure will not crumple down and is safe to be washed in a dishwasher.
Pros:
Available in multiple colors
Dishwasher safe
Shatterproof
Cons:
Not ideal for microwave and oven use
---
Our Recommendation for the Best Cereal Bowls
All 10 best cereal bowls listed here offer great features and benefits, though some differ from others. You may find it beneficial to choose more than one set for your dinnerware.
For instance, I would likely purchase the  Corelle Soup/Cereal Bowl Set and certain meals but also the RushGo Set for regular food items. Having a variety in your kitchen can help you cover multiple needs without worry. 
More Dinnerware Related Articles:
---