Quick Summary: There is no doubt that if you are drying beef jerky, apples, nuts, cereal, dog treats, and even bananas almost every week, the Nesco Food and Jerky Dehydrators for you. Our Nesco food dehydrator review found that it had everything you might need and then some, with its programmable digital timer, adjustable heat, huge expansion capability, and powerful heating element. If you only want to dry an apple and test out the idea, the American Harvest will save you a few dollars.
NESCO is a brand that's well-known for making high-quality kitchen appliances. One of these appliances includes a food dehydrator. A must-have for anyone that enjoys their dry fruits, vegetable herbs, and seeds.
These dehydrators work simply, and they all come with a tray. Place what you want to dry in the tray and the dehydrator distributes heated air throughout the trays, which are usually all mesh-covered.
Food dehydrators are recommended for those who have their own farms or have gardens with a variety of fruits and vegetables growing. Another advantage of purchasing a dehydrator is you don't have to worry about the extra ingredients that are in your store-bought packages, and you can dry your goods in the comfort of your home.
While picking the best, we made sure to see if they include the features that one should look out for, which include an adjustable thermostat, the number of trays, if they're made of BPA free plastic, and if they come with a programmable timer.
You won't have to look any further than this article to come up with an informed opinion. Here is the list of the best NESCO Food Dehydrators to make your decision an easier one.
Quick Navigation
---
10 Best Nesco Food Dehydrators Comparison
| | | |
| --- | --- | --- |
| | This best overall among food dehydrators comes with a clear top so you can see the machine's progress. There's no need for tray rotation during dehydrating. | Read Our Review |
| | You can set this user-friendly dehydrator to different temperatures.It operates on 600 watts of drying power and its exterior is designed to preserve the nutritional content of your food. | Read Our Review |
| | Adjustable digital settings are easy to access. The unit's capacity can be expanded for the best drying space. | Read Our Review |
| | What we liked best about this dehydrator is that you can adjust the temperature for different foods. Its trays don't need rotation during drying. | Read Our Review |
| | This dehydrator has room for 12 trays, comes with accessories, and is equipped with an adjustable thermometer for making premium beef jerky, fruit leather, and other dried foods. | Read Our Review |
| | This model features fixed temperature control for consistent heating. Plus, you can expand the number of trays. A meat gun is included,too. | Read Our Review |
| | What separates this apart from other food dehydrators is that it accommodates huge batches. You can choose from a variety of temperature settings, too. | Read Our Review |
| | Its drying system prevents different food flavors from mixing. You can adjust the temperature, and the unit's sophisticated design preserves foods'nutritional quality. | Read Our Review |
| | Equipped with a powerful 500 watt drying motor-this dehydrator dries up every fruit and vegetable turning them into delicious snacks. With its unique feature of 12 trays-these machines can accommodate large quantities of items. | Read Our Review |
| | Small, compact and handy-these dehydrators function with 400 watts of drying power. You can adjust the structure of this machine with its 7 extendable trays and also directly monitor the drying process through its transparent cover. | Read Our Review |
---
Reviews of 10 Best Nesco Food Dehydrators
We've collected some of the most popular Nesco food dehydrators and provided a quick, but in-depth review of all their benefits and drawbacks. You are sure to find the one that will fit your needs and budget in a snap.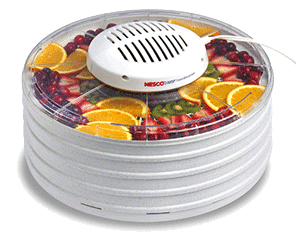 What you will love: If you are looking to try adding some healthy, naturally dehydrated foods to your diet, you will find that any Nesco food dehydrator review will include this budget-friendly option.
Built as an introduction to the dehydrating lifestyle, this small model will let you test out a bunch of tasty recipes without blowing the budget. Simple to use, just slice up your fruits, place on the round trays, close the top, and plug it in.
A top mounted fan draws the heat up from the bottom of the unit, so you never have to swap trays around to attain an even result.
Now, if you are leaping in whole hog, you should not expect the FD-37A to stand up to non-stop use without showing signs of wear fairly quickly.
Users report that the trays and center column will warp after a few months of steady use. It does not have an adjustable heat setting, so you will have to use a thermometer to determine if meats are being dried at the appropriate setting.
Overall, it's a nice unit for drying a few bananas every now and then, but for a busy family, you may want to step up your game.
Pros:
Low price point
Easy to operate
Even drying temps on all levels
Cons:
Trays and center column warp after repeated uses
No heat control
No switch–you have to plug it in to turn it on
---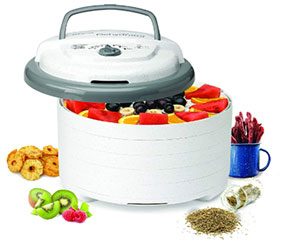 What you will love: When hunting for a food dehydrator that still works with your wallet but offers all the extras and durability you need, the NESCO FD 75a Snackmaster Pro Food Dehydrator might be the answer.
This unit amps up the power to 600 watts for faster drying, resulting in less loss of nutrition and flavor. The simple heat setting dial on the top also indicates which setting is right for the recipe you are working on.
As found in many Nesco food dehydrator reviews, the sides of the dehydrator are constructed out of Vita-Save opaque plastic, which blocks harmful light from removing vital nutrients during the process.
While it comes with five trays, it can easily be expanded to hold up to twelve able to accommodate your entire harvest in one fast shot. Built of sterner stuff compared to the FD-37A, users have not experienced warping even when drying jerky using temperatures up to 160F.
The patented air-circulation system pushes the dry/hot air to the outside walls where it is then drawn toward the center through the drying trays, reducing condensation at the top of the unit and preventing flavors from mixing. Make sure to verify the temperature when you first use the unit and make adjustments as needed.
Pros:
Adjustable temperature setting
Easy to understand operation
Expandable up to 12 trays
Cons:
Temperatures are not always consistent
Can take up to 18 hour to dry some foods–not as advertised
---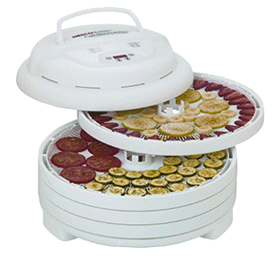 What you will love: When you are really ready to start cooking vast quantities of jerky, nuts, cereals, and even dog treats, you may want to invest in the Gardenmaster.
This Nesco food dehydrator designed to hold up to twenty trays, you can dehydrate up to ten pounds of jerky at once. It boasts a powerful 1000-watt heating unit, which is better able to sustain higher temperatures to prevent bacteria from growing in meats and fish during the drying process.
Best of all, it includes a programmable digital timer, so if you know your apples only take 8 hours to dry, you can set the dehydrator to start working when you go to bed and it will shut off at the end, preventing over-drying of snacks.
Now, all that being said, bigger is not always better according to some Nesco food dehydrator reviews. When you compare drying times between the Gardenmaster and units that use 750 watts of power, there is not a noticeable difference in drying times but you end up using more electricity – so if you don't truly need the huge capacity of the Gardenmaster, you might be able to save a few dollars on a less powerful unit.
Pros:
Huge capacity, holds up to 20 trays
Programmable digital timer
More consistent high temps for jerky
Cons:
More expensive, but not faster
30-day return policy
Will have to rotate trays when stacking lots of trays to get even drying
---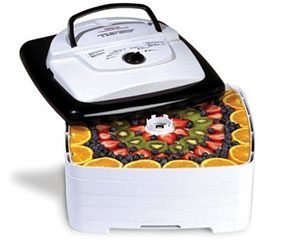 What you will love: Maybe you would like a little more power to achieve the higher temps needed for really good jerky, but want to save a few dollars over the fancy Gardenmaster.
The Nesco FD-80A might look like a bargain at first, but square pegs just don't fit in round holes. This unit boasts a 700-watt heating element, which should achieve the needed 160F for healthy and safe dried jerky.
The square shape supposedly provides over 40% more space to dry more food in less time, but that shape also fights against the air flow system. When checking a Nesco food dehydrator review, some users report that not all the food reaches the same level of dehydration, especially in the corners.
Furthermore, this unit suffers the same type of complaints found on the least expensive version with loud fans and heating elements that are known for failing within just a few months.
So, if you want to try making your own fruit chews and don't expect to use this unit often, it might be the right one for you.
Pros:
Square design offers more space for food using fewer trays
Adjustable heat settings
Stores neatly in cupboards
Cons:
Less even drying
Quality control issues on this model
More expensive without reliability
---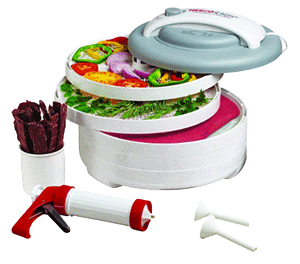 What you will love: You might want to compare the Snackmaster Express against the Pro when looking for a dehydrator to make nutritious fruit snacks or some jerky to share with friends. The Express has a 500-watt heating element, instead of the 600-watt and is not expandable.
The Express uses five trays sized to fit only the Express lid, while other Nesco units can mix and match their trays. It does have an adjustable heat setting, with an easy to understand guide.
However, when you check any Nesco food dehydrator review, it is clear that this is a unit meant for occasional use, not heavy-duty drying of your orchard's harvest.
Constant use seems to wear out the units in just a few months, and like other affordable versions, there is no power switch. You will need to keep an eye on the drying time and unplug it from the wall when you are done.
All food surfaces are BPA free, so you are not introducing possible carcinogens into your organically prepared treats.
Pros:
Smaller size
Adjustable heat settings
BPA-free food surfaces
Cons:
Quality control issues
Not expandable
No off switch
---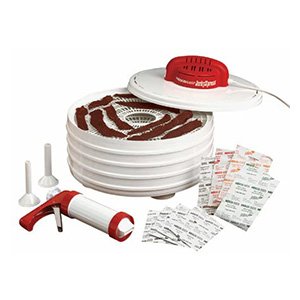 What you will love: With its top-mounted powerhead, this made in the USA food dehydrator dries food at a fixed temperature, simplifying the process.
You can expand its BPA-free compartments for added capacity. Plus, this dehydrator comes with a meat gun so you can turn any ground meat into a delicious snack.
As our top pick for the best Nesco dehydrator, the JerkyXpress evenly distributes heat so you don't have to rotate trays. It dries food at a consistent 160°, so it's ideal for drying virtually anything and you don't have to deal with remembering to adjust settings.
You can extend the unit's 4 compartments to 7, so you can preserve bigger batches at one time. Since the trays are BPA-free, your food won't come into contact with potentially harmful substances.
A meat gun with three tip attachments and jerky seasoning is included to easily turn ground meat into jerky strips of different thicknesses.
Pros:
Easy to use (especially for beginners)
Fast, even heating
Lightweight
Easy to clean
Cons:
Related reading: Best food dehydrator for jerky
---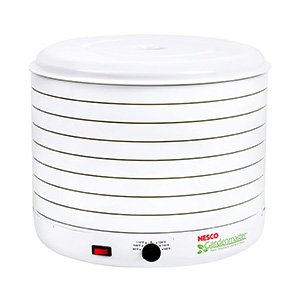 What you will love: If you're looking for the top Nesco dehydrator for cooking in bulk, look no further than the Gardenmaster 075. It quickly dries food in a matter of hours, and you can expand its capacity for larger batches.
The adjustable temperature settings give you added flexibility. It comes with a few accessories too (fruit roll sheet and clean a screen) to make the most of your food-preserving capabilities.
If you want to preserve a variety of foods such as fruits, veggies, and meat you know how much of a plus it is to be able to adjust the temperature. You can set the thermostat on this appliance between 95°F and 160°.
If you want to dehydrate lots of food at one time, you can expand this unit's capacity from 8 to 30 trays, saving the time and clean-up required for repeat smaller batches.
The heating system allows for even drying, without mixing flavors. No tray rotation is needed. The exterior is designed to preserve the maximum nutrient content of your food for best results.
Pros:
Customizable temperature setting
Dries food quickly while preserving its nutritional quality
Quiet
Cons:
---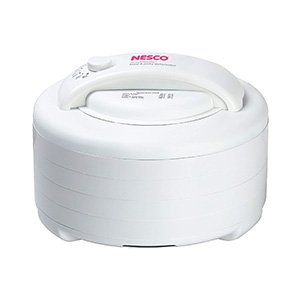 What you will love: You can expand the unit's capacity to dry a larger quantity of food. Air circulates toward the center for even heating and eliminates the need to rotate trays. Temperature adjustment allows you to dehydrate food at the best heating level.
For the best quality, different foods should be dried at different temperatures. This kitchen appliance features an adjustable thermometer with settings ranging from 95°F to 160°F.
The Nesco dehydrator features a top mounted fan system that directs air across trays horizontally to evenly distribute heat, preserving the flavors of your foods so they don't mix. Additionally, you can leave the trays in place for the entire duration of drying. The machine's design can dehydrate up to four times faster than other models.
This unit comes with four compartments, but holds up to 12 so you can prepare large batches of fruits, veggies, and meats at once, saving time and effort.
Pros:
Great for large batches
Different temperature settings to achieve best results with different foods
Fuse triggers to stop the machine if it overheats for optimal safety
Cons:
Food compartments may be prone to warping
---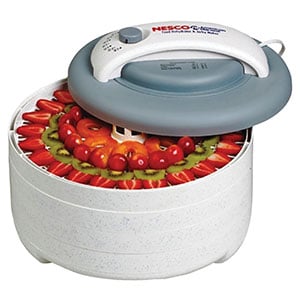 What You Will Love: With a highly powerful inbuilt hydrating machine, these best food dehydrators will do the most difficult job for you and dry up fruits and vegetables. The 4 tray feature of this machine lets you efficiently dry up more items.
You can have healthier and tastier snacks made at home with perfection through Nesco's multi-purpose, extremely versatile FD-61 Food dehydrator.
Lightweight
Weighing about only 6.8 pounds, this powerhouse machine is super light to life and move around in the kitchen. Its small and smart size makes it compact enough to be easily placed on kitchen shelves and counters.
Powerful Machine
Powered with 500 watts of drying power, this electric food dehydrator quickly dries up fruits and vegetables. Another factor that contributes to its quick-drying effect is its top-mounted fan. This fan regulates airflow making sure that it is evenly distributed.
Extendable Structure
Four trays have been added to this machine that can be extended up to 12 trays. The benefit of this feature is that you can put in various items in the Nesco Snackmaster Pro food dehydrator that are then dried up in one go. The machine itself adapts to the addition of trays and the drying force is regulated through all compartments.
Pros:
Functions with 500-watt drying power
Comes with four trays
It has an adjustable thermostat
Lightweight and easy to move
Cons:
---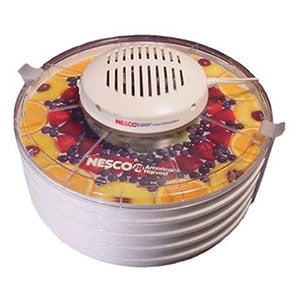 What You Will Love: Smartly designed and complimented with multiple operating features-this food dehydrator is the top favorite of every dry food lover. This is the best device for beginners who wish to learn and experience the science of food dehydration at home.
Save yourself from unwanted trips to store for dry food, rather choose to prepare it at home with Nesco FD-37 Food Dehydrator.
Strong and Powerful Motor
Supported with a drying power of 400 watts, this food dehydrator dries up every edible item smoothly. The top mounted fan works with full speed, allowing the heat and pressure to seep into every single element.
Adjustable
With this single device, you get the liberty to dry up huge amount of items as it can be extended with 7 trays. These 7 trays give you ample space to dry various veggies and fruits that you can serve within small groups and gatherings.
Easy to Monitor
Covered with a transparent lid-this dehydrator gives you the peace of mind that you won't get through other appliances as you can keep a lookout on the dehydration process. This strong transparent lid does not get foggy with moisture so that you can monitor the drying process throughout.
Pros:
Works with a 400 watt powered machine
Easy to monitor through its transparent lid
It features an adjustable thermostat
Can be extended into 7 trays
Cons:
---
Nesco Food Dehydrator Features
When reading through any Nesco food dehydrator review, or shopping for any quality dehydrator, there are a few features that you will want to find on your new unit. These include:
An Adjustable Thermostat
Different foods need different temperatures to prevent bacterial growth and to deliver a great texture. You will be disappointed with a food dehydrator that dries only at a pre-set temperature.
Expand the Number of Trays
When you want to dry bushels of apples, you will want more than a few trays to use while dehydrating your favorite snack. Your new Nesco food dehydrator should allow you to add extra trays for those oversized harvests.
Made of BPA Free Plastic
Not every manufacturer keeps their food-prep appliances BPA-free. All of Nesco's food dehydrators feature BPA-free food surfaces, so you can feel confident about the safety of the snacks that you provide to your family.
A Programmable Timer
You don't want to remember to unplug your food dehydrator, especially when the jerky is due to finish drying in the middle of the night. A timer will shut off automatically, ensuring a perfect dried banana every time.
---
We hope you found all the information you needed to make the best choice for your new food dehydrator with our Best Nesco Food Dehydrator reviews and buying guide. We would love to hear from you. Leave any comments below or share your thoughts on social media.
Related Articles: