Quick Summary: Based on the reviews we have put together and the features to consider when choosing the best food dehydrator for jerky, the winner of this roundup is the Gourmia Food Dehydrator. It is clear why the unit stands at the forefront of the roundup. Apart from offering you numerous drying trays to increase capacity, the appliance is versatile enough to dry a wide variety of food items.
Making jerky is an easy way to take advantage of the discounts for buying meat in bulk quantities. A quality dehydrator rated to handle meats makes it easier to put meat up when electricity might be an issue. The process is easy, and there are so many recipes available that variety becomes the spice of life.
So, what qualities go into defining a dryer for beef jerky? Food safety is a top concern. Being able to clean the trays and dehydrator quickly is also another aspect of great dehydrators.
Some of us look for dehydrators that expand based on our food preserving needs. Price is also essential, as is a quality warranty. That's a lot of information to track.
The good news is that we've done all of that for you. Keep reading as we walk you through some of the best dehydrators.
Quick Navigation
---
Top 10 Food Dehydrators For Jerky Comparison
| | | |
| --- | --- | --- |
| | The Gourmia GFD1850 features an easy to use a digital thermometer and comes with ten drying trays and jerky hanging racks. The clear front window allows you to watch the process without opening the door. | Read Our Review |
| | The Nesco FD JerkyXpress dehydrator features a 350 watt top mounted fan for quick drying times and fixed 160-degree temperature control for even heating and drying. The unit is expandable to 7-trays and is BPA free. Made in the USA makes this a sweet unit. | Read Our Review |
| | Presto 06300 Dehydro is a four tray system with expansion to eight trays as needed. There is a see-through top mounted cover for inspecting food as it is drying. Clean up is a snap as the trays are dishwasher safe. Nesting trays make it easier to store. A fixed temperature thermostat for consistent drying helps get through dehydrating chores quickly. | Read Our Review |
| | Excalibur 3926TB features a 9-tray dehydrating unit with electric timer and temperature settings. The automatic shut off increases safety and allows for unsupervised jerky production. Made in the USA is a plus and the 10-year limited warranty is reassuring. | Read Our Review |
| | Cuisinart DHR 20P1 is perfect for a full-kitchen dehydrating production, including jerky, meats, fruits, and more, and gives you total control over preservatives and additives. The unit includes a three-speed adjustable 620w fan. Its best feature is the top vent. | Read Our Review |
| | Ivation 6-tray digital dehydrator features an automatic shut-off timer, preset heat control, and designed for even heating within the dehydrating chamber. Perfect for jerky, meats, fruit, vegetables, and extra garden produce. | Read Our Review |
| | Ronco 5-Tray Dehydrator feature BPA-free trays that make it natural to homestead and preserve food. The five-tray system is a nice size for most dehydrating projects, especially beef jerky. Suitable for all food types. Simple to use with just two trays for smaller batches or stack all five trays for larger batches. | Read Our Review |
| | Waring Pro DHR30 features an adjustable fan/thermostat and five dehydrating tray systems. Perfect for beef jerky, fruits, and even purees. Gentle enough for herbs and powerful enough to handle dehydrating meats safely. | Read Our Review |
| | Weston 10-tray Dehydrator features an ultra-quiet fan with even flow technology, non-stick trays for easy cleanup, and meat handling. One of the larger dehydrators and capable of handling mixed loads of meats and produce. The best feature is the thermostat, which is adjustable. | Read Our Review |
| | Hamilton Beach 32100A features a five-tray stackable dehydrating system. The food dehydrator has an adjustable thermostat with a range of 100-162 degrees F. The powerful 500w motor ensures even circulation. Perfect for jerky, fruit, produce, or purees. | Read Our Review |
---
Reviews Of Top 10 Food Dehydrators For Jerky
Below we have compiled reviews of the top 10 beef jerky dehydrators for jerky. This will make it easy for you to reach a decision when shopping for the food dryer that will meet your needs. The reviews will help you to make a decision on whether to purchase or not.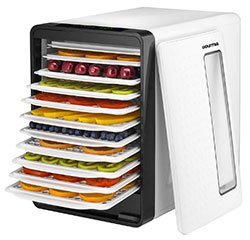 This Gourmia Touch Digital dehydrator offers you a total of 10 trays to give you the convenience of preparing different types of dehydrated food items.
This goes a long way in reducing the cost and time of preparing such food items. To ensure that the drying times and temperatures are accurate, the unit features digital touch settings.
The settings also make it easy for you to prepare your favorite dried foods. If you would like to monitor your beef jerky as it dries out, you will be able to do so through the transparent window.
Other products that you can dry with precision include sweet potatoes, fruits, vegetables, and snacks.
Pros:
10 trays for easily handling big dehydrating projects
360-degree circulation for even drying without rotating foods,
Transparent door for quality control
BPA free
UL certified.
Cons:
The larger size of 17.6 x 12.7 x 18.4 inches makes it difficult to find cabinet space for storage.
---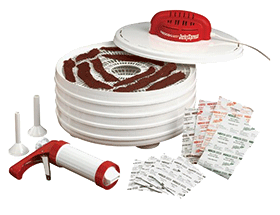 This is both a dehydrator and a jerky maker. Although it has wide drying trays and a 350-watt heating element, the temperature at which it dries food is fixed.
The kitchen appliance compensates for the fixed temperature by having a fan-driven powerhead. Rather than taking days to dry food items, your food will be dehydrated in a matter of hours when you use this food dryer.
In addition to the speed, even distribution of heat helps to ensure precise results at all times. The appliance is also accompanied with a jerky gun upon purchase. The detachable top makes it easy to clean the base and the trays.
Pros:
Smaller size is perfect for countertop use and storage when not in use
BPA Free
Powerful 350w heater processes jerky in under 48 hours
The .75 sq feet of dehydrating space per tray is ample enough to handle large projects.
Cons:
Expandable only to 7 trays.
Related reading: Best Nesco Food Dehydrators
---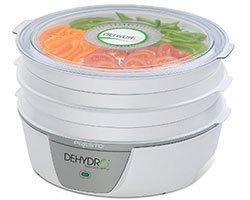 This Presto Electric dehydrator features four trays, making it possible to dry foods in a cheaper way than commercially dehydrated foods. The process produces dehydrated foods with no preservatives or additives.
Although the appliance operates at a preset temperature of 165 degrees, a bottom-mounted fan and heating element will ensure even distribution of heat.
You will also get to view your food as it is dehydrated, thanks to the see-through cover. Some of the advantages you will enjoy if you buy this food dehydrator include the ability to increase capacity, ease of cleaning, and compact storage.
Pros:
Includes four drying trays and can handle eight trays total
Simple to clean and dishwasher approved
Preset temperature of 165 degrees
Simple to store.
Cons:
Must plug-in and unplug to turn the unit on and off.
Preset temperature makes it more difficult to dry delicate foods without constant supervision.
---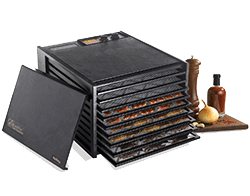 With a total of 9 trays and 15 square feet of drying surface, you will be able to dehydrate large quantities of food in a short time. The appliance also features an adjustable thermostat with temperature ranges of between 105 and 165 degrees.
While this allows you to dehydrate a wide range of food items, the 26-hour timer lets you attend to other things while your food dries. The thermostat, heating element, and fan are all located at the back of the unit.
This strategic location is designed to allow for drawing in cool air before it is heated and distributed over the trays. The horizontal airflow not only ensures faster drying times but also retains nutrients to produce delicious foods.
Pros:
Large capacity with 15-sq feet of drying space
26-hour timer makes it easier to manage longer drying times
Simple to use thermostat has a temp range of 105-165 degrees, giving you extra control over drying times.
Suitable for meats, fruits, vegetables, and even yogurt.
Cons:
---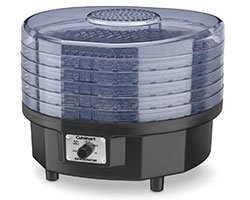 Whether you want to dry vegetables, fruits, herbs or meats, this is the right appliance for you. The Cuisinart dehydrator dries food naturally, with no preservatives or additives.
To help you dry all your food items with precision, the dehydrator features adjustable temperature control.
This lets you choose from among four options: fan only, low, medium and high. With the increased need to have faster and even drying, you will be impressed by the powerful 620-watt motorized fan that is complemented by the top vent.
Whenever you want to increase the quantity of food to be dehydrated, you can always use the additional trays.
Pros:
Fan settings for low, medium, and high
Produces even drying
552 square inches of drying space
Comes with five trays
BPA-free,
Cons:
There is a fan control rather than heat control.
---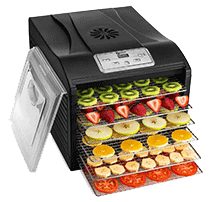 This Ivation Dehydrator can help you to prepare healthy and delicious foods and snacks, without additives or preservatives.
The unit has a fan mounted on its rear to allow for even heating and prevent overheating. There is also an adjustable thermostat and automatic shutoff function, both of which ensure that your food is dehydrated at the most suitable temperature.
When it comes to capacity, the 6 drying trays will provide enough space for drying large quantities of fruits, vegetables, meats, and herbs over a short time.
Once you choose your desired temperature and time, the appliance will dry your food items to your specifications.
Pros:
Six trays makes it a perfect middle unit for home dehydrating
Rear-mounted fan for even drying at all levels
Adjustable shelf height accommodates thicker foods.
13″x12″ drying service per tray
Temperature range from 95-158 degrees Fahrenheit.
Cons:
---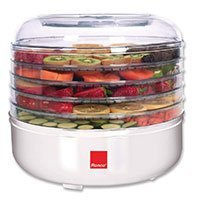 This Ronco Electric dehydrator features some impressive features that function to deliver well-dehydrated food items.
The 125-watt dryer has 5 interchangeable trays that are meant to provide enough space so that you can save time during the dehydration process.
The unit achieves even drying of food, thanks to the conventional airflow from its electrical heating coils. The appliance is designed and built to operate quietly so that you can entertain your guests as the items dry out.
To increase the opportunities available to you, the unit comes with an instructional booklet that contains several recipes.
Pros:
Dishwasher safe
BPA-free
One of the few dryers with a quiet motor
Cons:
Bottom heat and fan, so foods on the bottom tend to dehydrate faster.
The heater is not adjustable.
---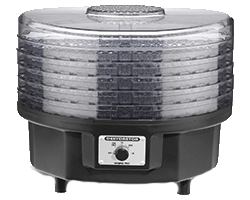 When you choose this one for preparing your jerky, you will get 5 stackable and interlocking trays that will provide you with increased drying space.
Regarding versatility, the unit has adjustable temperature control with off, fan only, low, medium and high. This lets you choose an ideal function depending on the type of food you intend to dry.
The versatility of the food dehydrator allows you to dry out herbs, fruits, and beef jerky. In case you are worried about airflow, the new fan system of the dehydrator promotes better flow of air.
Pros:
Newly designed fan system provides better drying and airflow.
A Five-tray system is perfect for most kitchen jobs
Large enough for handling garden extras or for medium-sized batches of beef jerky.
Cons:
Fan adjustment is lo, medium, or high.
---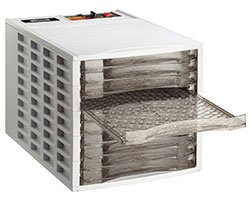 With ABS thermoplastic construction and 620 watts of power, it is no surprise that the food dehydrator provides you with a total of 10 square feet of drying space.
All the trays are non-stick, a factor that ensures food does not stick and gives you an easy time when cleaning. To promote optimal performance, the unit has a 600-watt heating element and a 5.5-inch diameter fan that enhances better airflow.
The appliance comes with 10 pull-out trays and a color-coded adjustable thermostat, with the temperature ranging from 84 degrees to 155 degrees.
Pros:
Ten square feet of drying space
620-watt motor
temperature range adjusts from 84-155 degrees allowing you more control over how you make dehydrated food.
Cons:
---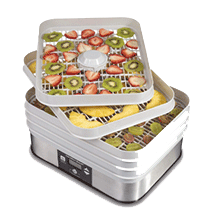 With this food dehydration, you can be sure of taking food preparation to the next level. The appliance features a 48 hour time and an auto shut function.
This makes it possible for you to attend to other things while your food dries out. In fact, you can run your errands since it will automatically shut off once the food is ready.
When preparing jerky, the clear lid of the it will let you check the food. The digital thermostat is adjustable to allow you to change the drying temperature while the continuous airflow ensures even drying.
With five stackable trays and a fine-mesh sheet, you can dry anything from fruits and vegetable to herbs.
Pros:
Simple to use, middle size with plenty of drying space
The adjustable thermostat is perfect for dehydrating a range of produce, meats, and fruits allow you to get ahead with food preservation.
Cons:
Bottom heated, so foods on the bottom dry faster than those on the top.
---
Key Features of a Good Dehydrator for Jerky
There are some features that will help you to achieve the best results. A good dehydrator has these features:
Thermostat
The fact that different types of food will dry out under different temperatures makes it important to buy a dehydrator with an adjustable thermostat. This will help you to dry more than one type of food conveniently.
Related Reading: Best Meat Thermometers
Timer
With the lengthy duration that food dehydration takes, a timer will alert you when the food is ready.
Auto Shutoff
It should have an auto shutoff function. This will allow you to attend to other issues as your food items undergo the dehydration process.
---
Things to Consider Before Buying Food Dehydrators For Jerky
Even as you mull over which one to buy, you should settle on the appliance that will meet most of your needs. This is why you should have these factors in mind when shopping around for a food dehydrator:
Temperature and air flow
The concept behind food dehydration is exposing the food to consistent and high enough temperatures for a period long enough to dry out part of the moisture.
One of the challenges in these appliances is to ensure that the temperature is evenly distributed so that every part of the food dries up.
The challenge becomes more pronounced since some food items will be further from the source of heat than others. To make sure that all food items dry out evenly, it is important that it has effective airflow.
Although horizontal flow dehydrators are better designed for this, vertical flow models incorporate fans to help you achieve this goal.
Size
There is a close correlation between the size and capacity of any food dehydrator. When it comes to size, there are two important factors that you will need to be mindful of.
You will have to consider how much food you will need to dehydrate as well as the amount of space available in your kitchen. Vertical flow dryer tend to occupy less counter space and have smaller capacities.
This will save you on storage space but increase the amount of time it takes to dry out your food items.
If you intend to be dehydrating large quantities of food within a short period, you should consider buying a larger food dryer.
Proper adjustment of food
Different types of food will dry out under different temperatures, a factor that will make it necessary to make adjustments depending on the food items you wish to dry.
Portability
The portability of your preferred food dehydrator will be closely tied to its size. There are times when you will need to use your food dryer at your neighbor's house.
Some circumstances will require that you dehydrate food items while on a journey. To ensure that you enjoy the benefits of the appliance wherever you are, it is important to settle on a portable food dehydrator.
Related Reading: Best Portable Electric Stoves
Materials
There is no doubt that you will be looking for a durable dehydrator when making a purchase. How long your food dryer will last will depend greatly on the materials from which it is made as well as the quality of construction.
When thinking about materials, you should keep in mind the safety of materials. You should also be mindful of chemicals that are likely to leach into your food at warm temperatures.
The bottom line is you should buy a food dehydrator that will look great on your countertops.
Price
Just like many other products, you will have different food dehydrator brands and models from which to choose. The different brands and models are available in the market at varied prices.
This means that you will not only need to come up with a budget but also identify the appliance that matches your budget. If you would like to get a top quality appliance, you will have to spend a little more to get a quality product.
However, this does not mean that high prices automatically translate to high quality. It would be important to look at the features and parts of the dehydrators.
Noise
It is normal for beef jerky desiccators to come with fans, a feature that produces noise during the dehydration process. The level of noise will vary from one food dehydrator model to another. It is important to settle on the appliance that is as quiet as possible.
Ease of use
Every food dehydrator model is different from the other. While some of these appliances are easy to use, you may find it difficult operating others. When looking to buy a food desiccator for jerky, you should settle for one that is easy to use.
With the importance attached to precision and quality, the food dehydrator features digital touch settings to allow you to achieve just that. With this food dryer, you will always be assured of delicious and healthy meals.
Related Articles