Quick Summary: The Swissmar KF-77041 Classic is the best raclette grills because it has an enamel finish on its base and a reversible cast aluminum plate that is a non-stick grill top on one side and a flat top on the other. It is perfect for searing meat or making a mean pancake. This set includes eight raclette dishes and eight spatulas.
Anyone in your dinner party of eight can cook his food exactly the way he likes it. It includes a variable heat control so you can choose a low heat or high. This grill is backed by the reputation and quality products of Swissmar.
Are you interested in the high-quality raclette grill, but are not sure which one you should buy? Are you concerned about the cost and want to make sure you are getting a great grill for a reasonable price?
With all the choices available, how do you know which one to buy? Have no fear, we have done all the hard work for you.
We looked at all the raclette grill to see which ones are made of durable construction and will provide long lasting enjoyment.
Listed here are the ones that we believe fit into the category of a top raclette grill.
Quick Navigation:
Top 10 Raclette Grills Comparisons
| | | |
| --- | --- | --- |
| | This Swissmar Classic 8 Person Anthracite Raclette with Cast Aluminum Grill Plate features a non-stick reversible grill top and comes with 8 Heat-resistant Spatulas; 8 non-stick raclette dishes and a user manual with recipes. | Read Our Review |
| | This Milliard Raclette Non-stick Reversible grill top has a flat side and a grill side for getting just the right sear on your food. The granite stone grill top heats slowly and evenly for perfectly cooked fish, meat and veggies. | Read Our Review |
| | This Artestia Electric Raclette Grill Tabletop has an adjustable temperature control with light indicator, which allows you to control exactly how steak, seafood and vegetables are cooked right in front of you. | Read Our Review |
| | This Dual Cheese Raclette Table Grill Features 8 cheese raclette pans to melt your favorite cheese in minutes. It is an essential addition to any party, get-together or gathering- right there on your tabletop! | Read Our Review |
| | This Hamilton Beach 8-Serving Raclette Electric Indoor Grill is perfect for keeping cheese warm on a low temperature or searing shrimp on a much higher heat. | Read Our Review |
| | This MasterChef Dual Cheese Raclette Table Grill comes with non-stick grilling plate and cooking stone- deluxe 8 person electric table top cooker- melts cheese and grills meat and vegetables at once. | Read Our Review |
| | This Milliard Raclette Grill includes a reversible non-stick grilling surface and 4 paddles and spatulas. The non-stick surface allows for more sliding and less swearing while plating your cheese and grilled items. | Read Our Review |
| | This Salton PG1645 8 Person Raclette Grill features an adjustable temperature control and indicator light, immersible grill plate for easy cleaning, stay cool handles, anti-slip feet and includes 8 non-stick color-coded raclette pans and 8 spatulas. | Read Our Review |
| | This Artestia Electric Dual Raclette Grill is equipped with an aluminum reversible grill plate and a high density granite grill stone. It also includes eight raclette dish holders with heat resistant handles and eight spatulas for easy serving. | Read Our Review |
| | This NutriChef Raclette Grill boasts upper and lower cooking zones, as well as dual cooking surfaces. It allows you to cook meat and veggies on a metal grill or a stone plate, and cheeses on the bottom. | Read Our Review |
---
Reviews of Top 10 Raclette Grills
Best Overall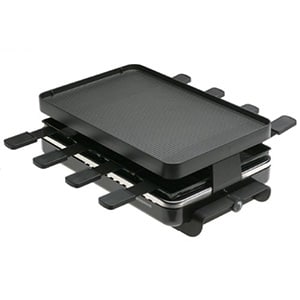 What You Will Love: The Swissmar Classic Raclette has a non-stick reversible grill top.
The Swissmar Classic is an 8 person raclette non-stick grill that makes cooking a party. This electric raclette maker allows everyone to create their own dish.
It has an enamel finish on the base and variable heat management system. It has a 1200 watt heating element.
It comes with eight non-stick dishes with cool-touch handles. Also included are spatulas that are heat resistant.
The Swissmar Classic also comes with a recipe book. It has a reversible aluminum grill plate on one side and a crepe top on the other.
It measures 4.5 inches long x 3.5 inches wide x 17.5 inches high. It weighs nine pounds.
This is the original Swissmar brand that has provided customers with quality products for over 30 years.
Pros:
Eight nonstick raclette dishes.
Cons:
---
Best Budget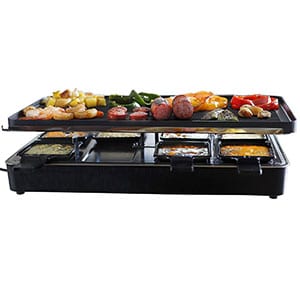 What You Will Love: It comes with a granite cooking surface.
This is the best grill because it can cook everything, including meats and vegetables.
It is even a semi-hard cheese grill because it is perfect for melting cheese. The Milliard Raclette allows for social dining because everyone can pick what they want.
The nonstick top provides easy cleanup. This is a changeable grill that has a grill side to perfectly sear your food.
The other side is a flat top for pancakes and grilled cheese. The granite top is slow to heat and cooks evenly. It has a light to indicate the grill is on so you do not forget to turn it off. The grill top is safe for the dishwasher.
It comes with eight non stick cheese pans. Its grilling top measures 18 inches x 9.25 inches.
Pros:
Granite top heats slowly.
Cons:
May not be as high as quality as a more expensive product.
---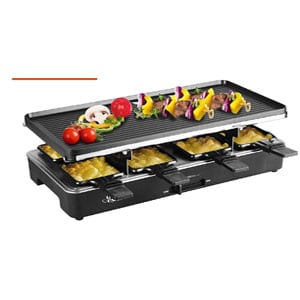 What You Will Love: The Artestia Electric Raclette Grill comes with two separate grill plates.
The Artestia Electric is the best food party grill because it includes a reversible aluminum grill plate, a granite grill plate, weigh dishes with handles that are heat resistant.
Spare grill stones can also be purchased. You can cook all of your food right at the table, so you can be sure it is all served hot.
The grill can reach a high temperature of 375 degrees Fahrenheit. It has a super functionality of controling heat and it is adjustable and comes with a light indicator.
All of the plates heat evenly and quickly, so you do not have to wait long to cook your food.
Pros:
This is a deluxe package that comes with 19 pieces.
Cons:
The cord is short and you may need an extension cord.
Related Articles: Best Electric Griddles for Your Kitchen.
---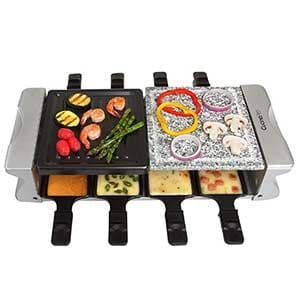 What You Will Love: The CucinaPro Dual Cheese Table Grill is a dual grill that allows you to use a flat and non-stick grill surface at the same time.
The CucinaPro dual cheese table grill replaces outdoor cooking by allowing you to create a relaxing, social meal indoors.
This is a high-performing raclette machine because it gives you the ability to use two different cooking surfaces at the same time.
The CucinaPro has eight raclette pans in which to melt your favorite cheese while cooking your meat and vegetables on top. This grill measures 19 inches x 8 inches x 4.5 inches.
Pros:
Dual grill top that allows you to use a flat and grill surface at one time.
Cons:
It does not come with spatulas for the raclette dishes.
---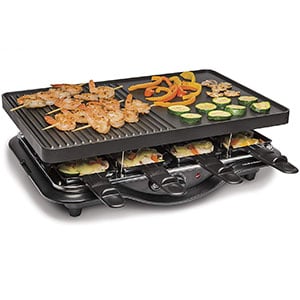 What You Will Love: Hamilton Beach Raclette Indoor Grill has 200 square inches of non-stick die grilling space.
This Indoor Grill gives you 200 square inches of cooking space. It is a square, not round raclette.
It includes eight raclette trays and spatulas that are resistant to heat. This 8 person party grill allows you to cook in the tradition of Swiss meals that provides everyone the ability to cook ingredients any way they want.
It has a gauge that can switch from low to high temperature. This grill is easy to clean by wiping it down or washing it in the dishwasher.
Pros:
Large 200 square inch cooking surface area.
Cons:
Grilling tops are not removable or adjustable.
---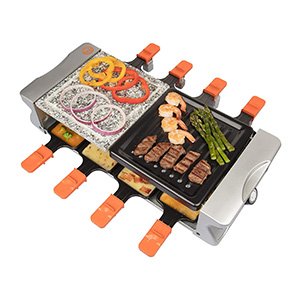 What You Will Love: The MasterChef Dual Cheese Raclette Table Grill is a perfect machine for large gatherings. It's perfectly designed for up to eight people to reach from both sides conveniently.
This raclette grill is an essential addition to any get-together. With 8 raclette pans and a grill, you can melt your cheese in record time while also cooking your favorite fish and vegetables all at once.
Nonstick grill and stone top: Allows you to cook your favorite meals all at once.
Serves 8 people: Ideal for large gatherings where everyone can share the meal from either side.
Temperature controlling panel: Lets you cook your meal in a personalized manner.
Pros:
8 cheese raclette pans
Cheese raclette table grill
Grilling stone
Cons:
---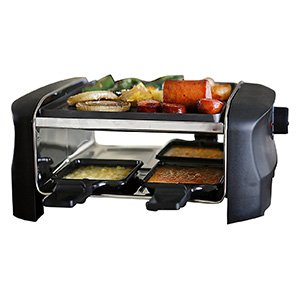 What You Will Love: You will love the easy to clean nonstick reversible (granite/flat) cooktop and the granite stone grill top. You can cook your favorite dish, thanks to the four separate nonstick coating compartments.
With super controlling options and indicator light, this portable grill is ideal for an intimate dining experience with loved ones.
Featuring a nonstick cooking top, wooden spatulas, and four cheese melting paddles, it can be a great choice for smaller gatherings of two to four people.
Construction: Comes with a granite stone top and an amazing grilling exterior, with a flat bottom to give you more options to cook other types of foods such as crepes, pancakes, etc.
Heat Control System: Helps you customize the cooking experience while the indicator light lets you know that the grill is operating.
ETL Certification: States that it is the safest grill to use
Pros:
Reasonably priced
Consumes less power
Easily portable
Cons:
Heats up slowly
Low quality of wooden spatulas
---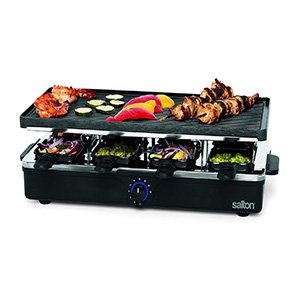 What You Will Love: You will love the raised edges that prevent your food from sliding off to the sides. The 1,400 watts, heat controls, and nonstick surfaces are perfect for meat, fish, veggies, and meats.
This round steel raclette grill is available in two variations and is designed to serve 6-8 people. It's ideal to grill seafood, meat, and veggies; and also comes with a recipe book, raclette pans, and spatulas.
Made of stainless steel: Low in maintenance and the non-stick coating prevents food from sticking.
Adjustable temperature powering and indicator light: Allows you to play around with ingredients and flavors.
Lightweight: Easily portable to any venue
Pros:
Adjustable temperature funtionaliy.
Easy to clean.
Assorted colors for cheese trays.
Stay-cool handles.
Round and available in 2 sizes
Cons:
Short power cable
No control system on temperature
Not dishwasher-safe
---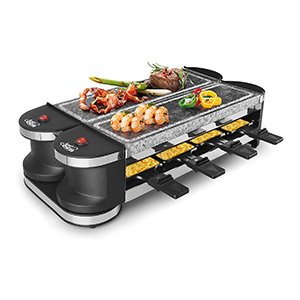 What You Will Love: You'll love that there're enough raclette dishes with their heat-proof handles for safety for everyone to cook and serve their meals.
This model's fully-dishwasher aspect eliminates the headache that comes with trying to scrape away burned foods and melted cheese. Simply wipe off the top after you are done and toss it in the dishwasher.
The grill features two different heating surfaces at the cooking surface and underneath to give you more control over how you want your foods to get cooked.
With two nonstick, reversible tops, four melting pans, and an intermediate price tag, the Artestia Electric Dual Raclette Grill gives you a real raclette experience.
Assorted accessories: In addition to the eight spatulas, the grill comes with eight grill raclette plates with heat resistant handles for preparing food and keeping it warm.
Construction: The grilling surface and granite stone cooking surface help you cook delicious meals easily and quickly. The nonstick grill surfaces make clean up less messy.
Safety: Wood-patterned housing on each end. It is complemented with anti-slip feet for safety purposes.
Pros:
Two granite non-stick reversible cooking tops
Dishwasher safe
Heat resistant handles
Heat-proof spatulas for safety
Adjustable temperature control
Cons:
Heats up slowly
Cooking top not dishwasher safe
Some people complain about the cooking surface being too small
---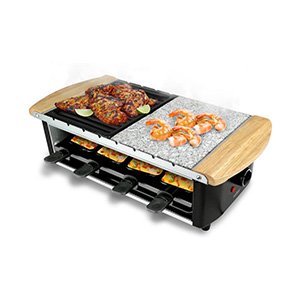 What You Will Love: You can make kebabs with NutriChef Raclette Grill. Wow, isn't that fun? Also, once the grill reaches the right temperature, it maintains the heat all through your cooking.
This unique raclette grill features granite and grill plates on the cooking top. The stainless steel grill plate comes with a nonstick coating, which gives you an option to choose which best suits your needs each time.
With a set of eight stylish raclette pans, you're spoilt for choice when it comes to what and how to cook it.
Two grill plates: The grill comes with two equally useable grill plates, a granite one, and a stainless steel plate with a nonstick coating.
Comes with multiple accessories: 8 spatulas, 8 raclette plates, and 8 non-stick raclette pans
Variable temperature functionality and LED light indicator: For customized cooking and monitoring.
Pros:
Adjustable temperature control.
Ideal for large gatherings
Retains heat for long periods
Easily portable
Lightweight and easy to place on any surface
Double cooking surfaces
Can make kebabs
Cons:
Comes with sketchy instructions
---
Final Verdict: The Best Raclette Grills
We have reviewed many raclette grills to find which ones rise to be the best of the best. We listened to the experts and everyday consumers.
We took a hard look at the quality of each grill. We also looked at their prices to ensure you are getting value out of the money you spend.
The 10 listed above are the top choices. Be sure to at these raclette grills before you make a purchase.