Quick Summary: When selecting the best manual meat grinder, it is important to consider the cost, performance, maintenance needs, and cleaning ease. With those factors in mind, while sifting through multiple options, we chose the Kitchen Basics 3 in 1 Manual Meat Grinder and Vegetable Mincer as our top pick.
This Kitchen Basics 3 in 1 Grinder gives the user multiple versatile options including mincing, grinding, and pureeing. Additionally, it is easy to clean and comes at a great price to fit your budget.
If meat is a large part of your menu and diet, you may be interested in purchasing the best hand meat grinder or an electric one. Meat grinders can make quick and easy work of many recipes and grow your menu to add new tastes and even healthier meals.
Imagine making your own beef jerky, delicious meatballs, barbeque pork or chicken sandwiches, juicy hamburgers, and more with fresh ground meat right from your own kitchen.
A manual meat grinder can be a great handy kitchen appliance that lets you explore new ways to eat your favorite foods, such as grinding cheese in with you hamburgers instead of adding it to the top of the patty.
Additionally, a meat grinder can help seasonings be added to your meats and meals more evenly as it is all combined during the grinding process.
If you have ever had a hamburger with one overly-seasoned spot while the rest of the burger was bland, you will see the value in feature alone. It can also be used to grind vegetables together.
One recipe that I believe a meat grinder would be excellent for is homemade dressing (or stuffing, depending on where you live) at Thanksgiving and Christmas.
As I generally cook for a large group of family members, finding a bowl big enough to mix all of my ingredients is a pain and I often fear my seasonings are not spread evenly enough. Putting the ingredients through a meat grinder could help solve this problem.
If a meat grinder is a purchase you are considering, keep reading for what options are available and how to choose the best one for you and your needs.
Quick Navigation:
---
Comparison Of 10 Best Manual Meat Grinders
| | | |
| --- | --- | --- |
| | This Kitchen Basics 3 N 1 Manual Meat and Vegetable Grinder quickly and easily grinds meat and vegetables, also includes two stainless steel screens; a fine mincing and course mincing plate and sausage funnel. | Read Our Review |
| | This Gideon Manual Meat Grinder features high quality stainless steel blades and screens, to ensure durability and lifelong performance. Comes with two stainless steel screens; and two mincing choice plates. | Read Our Review |
| | This LEM Stainless Steel Clamp-on Hand Grinder is a heavy-duty, all stainless steel construction, clamp-on style hand grinder. Highly polished stainless steel makes this unit easy to clean, rust resistant, and extremely durable. | Read Our Review |
| | This Weston Manual Tinned Meat Grinder and Sausage Stuffer grinds meat fine or coarse using the grinding plates included with the manual grinder. Stuff a variety of sausages with the included sausage making funnels. | Read Our Review |
| | This Weston Manual Tinned Meat Grinder and Sausage Stuffer features heavy duty nylon auger bearing, durable handle and a body made from cast iron. Includes two steel plates for fine and coarse grinding. | Read Our Review |
| | This LHS Manual Meat Grinder is made from heavy duty plastic and stainless steel to ensure durability. Equipped with powerful suction base to endure this meat grinder is in place while you are using it. | Read Our Review |
| | This WalterDrake Silver Manual Cast Iron Meat Grinder can grind many foods that electric processors just can't handle. This countertop meat grinder grinds 2 pounds per-minute with its cutter disc. | Read Our Review |
| | This Simple Being Manual Meat Grinder is equipped with stainless steel blades and powerful suction base. This all-purpose heavy-duty kitchen mincer can grind meat, vegetables, garlic and fruits also convenient as dog-food maker. | Read Our Review |
| | This CucinaPro Cast Iron Table Mount Meat Grinder is crafted from heavy duty cast iron and features a sturdy table top clamp, so you can enjoy consistent, safe grinding on a stable surface. | Read Our Review |
| | This Huanyu Manual Stainless Steel Meat Grinder is truly washable, completely prevents rust, and has long durability. If the machine is properly maintained, the design life of the machine can reach 10 years. | Read Our Review |
---
Reviews of 10 Top Manual Meat Grinders
Best Overall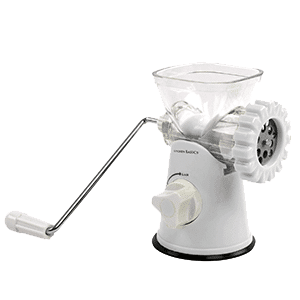 What You Will Love: It has both a fine and a coarse mincing plate, and can create homemade pasta.
The Kitchen Basics 3-in-1 Meat Grinder weighs 2.1 pounds, measures 7.7 x 5.4 x 5.2 inches, and is remarkably inexpensive.
It is equipped with a coarse and a fine mincing plate, and 2 stainless steel screens.
Just turn that ergonomic hand crank, and you'll easily grind meat, beans, vegetables, or garlic – even crush nuts!
Perfect for grinding 1 to 10 pounds of meat.
When it comes to kitchen tools, devices, and appliances, the more one can do, the better. Having versatile options in one appliance frees up time and space.
That is exactly what this Kitchen Basics 3 in 1 Grinder does. It not only does the stated meat grinding, but it can also puree baby food, cut pasta noodles, and so much more. The sharp stainless steel blades can cut through 1 – 2 lbs. of meat at a time.
It comes with a 3 size sausage stuffer, and an ergonomically designed handle to prevent fatigue when cranking the meat through. There are suction cups on the bottom to hold the grinder firmly in place.
It is also easy to clean, dishwasher safe, and fairly priced. However, it is not for heavy duty use, so limit the amount of meat you grind at one time.
Pros:
Grinder is compact and fits easily on a kitchen shelf
Rubber bottom grips well and stops the grinder from sliding around
Rapidly grinds 5+ pounds in one session
Ergonomic handle
Creates two types of pasta
Suction cups to hold in place
Fair price
Dishwasher safe
Fine and coarse mince plates
Cons:
Clean-up is hard – Tube grooves get clogged and it's hard to get the meat out
Doesn't come with an instruction manual
Push stick is too small for the intake opening
Not for heavy duty use
Large pieces may clog it
---
Best Budget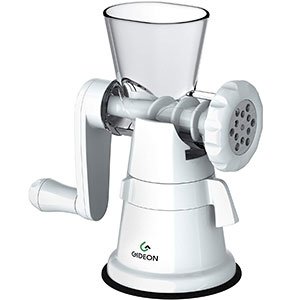 What You Will Love: This meat grinder has a very powerful suction cup base, which can be activated with a simple turn of a knob, and removed swiftly and easily.
The Gideon manual meat grinder weighs 2.5 pounds and its dimensions are 10.9 x 6.7 x 6.1 inches.
It's constructed of stainless steel and heavy-duty plastic and comes with top quality stainless steel screens and blades, plus 2 mincing plates, one coarse and one fine.
This grinder is used for creating sausages, meatballs, gourmet burgers, and more.
This lightweight compact meat grinder can be quickly disassembled.
It has a very powerful suction base which keeps the grinder firmly attached to table or counter top.
This Grinder is easy to clean and store. The compact design attaches to the counter with the turn of a knob but can just as easily be removed and put away. It is set at a reasonable price for most budgets.
As a manual meat grinder, it is not good for high volumes of meat. Also, if you put too large of pieces of meat through this grinder, it may stop up. Chopping larger pieces into smaller ones can help prevent this
Its fully enclosed blades eliminate any chance of injury. This grinder is dishwasher safe.
Pros:
Absolutely no leakage and a simple clean-up
Great for grinding burgers, especially if blade is really cold
Comes apart easily and can be either hand washed or cleaned in the dishwasher
Made from heavy duty plastic and stainless steel blades
Extremely powerful suction base
Compact and portable
Easily store away
Fine and coarse mincing plates
Dishwasher safe
Fair price
Cons:
Very hard to remove the plates at the front of the grinder after use
The fatter the cut of meat, the harder it is to push the hand crank
Suction power isn't strong enough and it doesn't stay on counter or table
Not good for high volume
Larger pieces may need to be chopped down into smaller pieces before grinding to keep from stopping up the grinder
---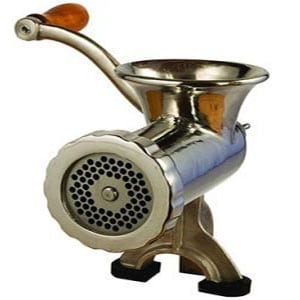 What You Will Love: This meat grinder is both easy to clean and rust resistant.
This LEM stainless steel grinder weighs 8 pounds and its dimensions are 11.5 x 8.3 x 5.3 inches.
It has a quaint old-fashioned look, rugged stainless steel construction, and is simple to clean as well as rust resistant.
Comes with 2 stainless steel plates – fine 3/16″ and coarse 3/8″, a stainless steel knife, and 3 stuffing tubes – 7/8″, 3/4″. and 1/2″.
It also features a very wide clamp opening which aids mounting on tables or countertops.
This LEM Products hand grinder is made with a smooth turn handle, making it easy for most any user. There are both coarse and fine stainless steel plates along with a stainless steel grinding knife.
It can easily clamp onto the side of a counter but can be easily removed as well and stored away. It is easy to clean, and rust resistant thanks to the stainless steel features. It comes with three stuffing tubes for making stuffing sausages.
As this unit is intended for low duty grinding, do not try to grind too much meat at once. It is an expensive item, especially taking into account the reviews of the product breaking within a few months.
Pros:
Requires very little strength to grind
Well made, convenient to clean, and easy to assemble
Doesn't clog up and no difficulty cutting through tendons
Easy to clean
Stainless steel features make it rust resistant
Coarse and fine plates
Stainless steel grinding knife
Easily attaches and removes from kitchen counter or table
3 stuffing tubes for sausages
Compact for easy storage
Cons:
The cutting knife doesn't ride smoothly on the plate
Clearance between the body and the auger shaft is too large, resulting in the tinier meat pieces wrapping around auger instead of being forced toward cutter head
Meat comes out all mushy, not ground
Intended for low duty usage
Expensive
May break within months
---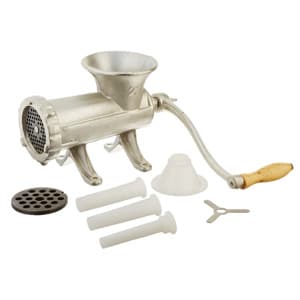 What You Will Love: This meat grinder comes with 2 steel plates and a steel grinding knife for efficient grinding capabilities that are tough enough for meat that includes bones.
The Weston #22 Manual Tinned Meat Grinder is made of cast iron with a durable handle, 2 steel plates, and a steel grinding knife. It comes with a sausage stuffer with 14 mm, 19 mm, and 24 mm sausage stuffing funnels.
Though it is much better for low volume grinding, it is said to be strong enough to grind bones in when you desire. Many people enjoy using this grinder to make meals for their pets.
The sausage stuffer can help you make professional looking sausages that taste just as good as store bought. The hopper opening size is 4" x 5".
This grinder is not easily clamped down on a countertop. Users state that it must be either bolted down or screwed down to a surface, so you may want to find a spot out of the way or hidden to attach it.
The price is higher than some other hand-operated meat grinders and may be too high for some budgets.
Pros:
2 steel plates
Steel grinding knife for efficient grinding
Sausage stuffer with three different size funnels to help you make professional looking sausages
Strong enough to grind bones
Cons:
Must be screwed or bolted to counter
Not good for high volumes of meat
Price may be high for some budgets
---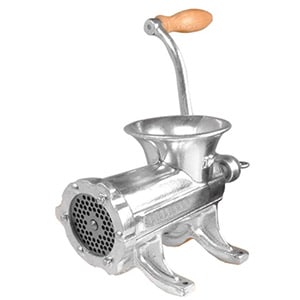 What You Will Love: This meat grinder has an ergonomically designed crank handle that can ease the pain and fatigue caused by manual grinding.
The Weston #32 Manual Tinned Meat Grinder and Sausage Stuffer was designed with the user in mind. It can be easily disassembled for easy cleaning.
The bottom has damage preventing rubber pads to help minimize any effects on your countertops. It can bet both temporarily and permanently placed. To temporarily place it, you can use suction cup feet which will have to be purchased separately.
Otherwise, it will need to be bolted or screwed down. The hopper opening is 5″ x 6″, and it adjusts for coarse to fine grind control. It comes with two steel plates that measure 4.5 mm and 10 mm, and a steel grinding knife.
Though a downside of hand-operated meat grinders, in general, is the fact that you must do the actual grinding, this unit has an ergonomically designed crank handle can make the tiring process of manually grinding a little less so.
It is cast iron and comes with a 14 mm, a 19 mm, and a 24 mm sausage stuffing funnel. The price might be a bit expensive for many budgets.
Pros:
Ergonomically designed crank handle
Can be easily disassembled for cleaning
Has damage preventing rubber pads on the bottom
Can be permanently or temporarily placed
Hopper opening of 5″ x 6″
Adjusts for coarse to fine grind
Two steel plates and steel grinding knife
Sausage stuffing kit with three funnel sizes
Cons:
Might be too high for some
Suction cup feet for temporary placement must be purchased separately
Permanent placement requires it to be bolted or screwed down which may mess up your countertops
---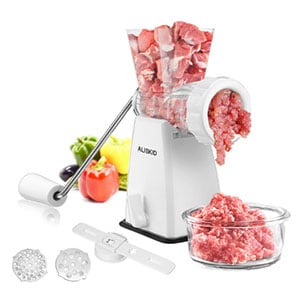 What You Will Love: This meat grinder has a large hopper that fits bigger amounts of meat than some others.
The LHS Manual Meat Grinder is designed with heavy duty plastic, stainless steel, and a suction base to keep it in place. There are two blades- one for coarse cutting and one for fine cutting.
The ergonomically designed handle helps minimize the effect on the wrist and the fully enclosed blades make it safe for even little fingers. It is both easy to assemble and easy to clean.
The hopper is large enough and the design tough enough to grind large amounts of meat, garlic, fruits, vegetables, peanuts, and more, and it is budget friendly.
I could only find two potential downsides to this product. The first is that some people have a hard time separating the grinder to clean it, though most say it is easy to do.
The second is that it may not stick to all surfaces, but that has only been on a couple of reported occasions thus far.
Pros:
Large hopper
Heavy duty plastic and stainless steel
Powerful suction base
Coarse and fine cutting discs
Ergonomically designed handle
Fully enclosed blades for safety
Can handle large amounts of food
Great price
Cons:
Some may have a hard time taking it apart to clean
Suction cup may not stick to all surfaces
---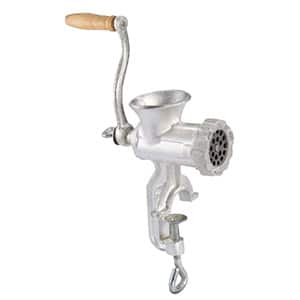 What You Will Love: This grinder is small, measuring at only 9″ long but can grind up to 2 lbs. per minute.
The Walter Drake Silver Manual Cast Iron Meat Grinder is made with a durable hand crank and easily clamps onto a counter. The cast iron body is great for durability.
This small kitchen device is easy to clean and runs about half of the price of most others. The cause of the lower cost may be due to the lack of sausage stuffer as the addition of that extra utensil makes other manual meat grinders worth the higher price.
Another downside to this meat grinder is that it only comes with one disc instead of two or more for versatility. If you are looking for a regular, basic hand-operated meat grinder, this one is a good choice for you.
However, it is not a good size for any large types of meat or thick chunks of meat. Us this one strictly for small amounts of meat you want to grind. If you generally need to grind a lot of meat and other foods at once, you should probably look at other options.
Pros:
Small yet efficient
Durable hand crank
Easily clamps onto counters
About half the price of other models
Cast iron frame
Nice, basic grinder
Cons:
No included sausage stuffing kit
Only one disc for grinding instead of two or more like other models
Small size
Not good for large amounts of meats or large chunks of meat
---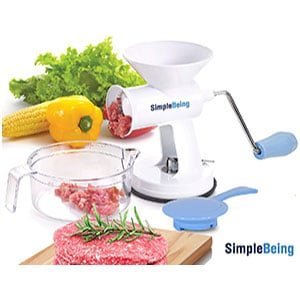 What You Will Love: The Simple Being Manual Meat Grinder Set is an all-purpose option that comes with powerful suction that makes it easy to grind up all your favorite meats with ease. This manual grinder requires no electricity and doesn't need to be plugged in.
Suction Base
This manual meat grinder/mincer comes with a suction base that helps keep the unit attached to the tabletop or work station you have set up so that it doesn't come off when you are working. This makes it safer to use and easy to set up as well.
Manual Ergonomic Handle
This meat grinder has a handle that is easy to turn as it has an ergonomic shape that fits better in the palm of your hand so that you feel more comfortable using it for a long time. This also keeps your hands from feeling any fatigue.
Compact
This grinder is also a compact option that doesn't take up a lot of space on your table or countertop. This allows you to have a large amount of food made at once without taking up your entire kitchen space to do it.
Pros:
All-purpose option
Require no electricity
Has a strong suction base
Has an ergonomic handle
Is compact
Cons:
Might need to put the meat through the grinder twice for proper consistency
Difficult to disassemble and clean
---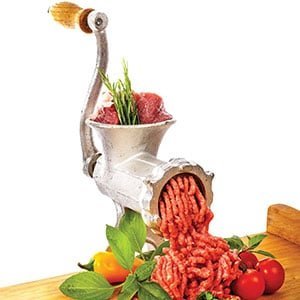 What You Will Love: The CucinaPro Meat Grinder is a convenient choice that comes with an attached tabletop clamp that makes securing and using the grinder much easier. This clamp also makes the positioning more secure so you don't have to adjust the unit.
3 Cutting Disks
This meat grinder comes with three different cutting disks that all work together to cut your meat into finer pieces so that you don't have to put the meat through the grinder a second time to get the right consistency.
Cast-Iron Build Grinder
This meat grinder is made from tough cast-iron that will not break or be damaged with heavy use. This metal is very durable and will last through years and years of use and you won't have to do anything to it for maintenance besides basic cleaning.
Use For Meat & Sausages
This meat grinder can also be used to make sausages with the same tool for when you want fresh franks for a barbeque or dinner. Just put the right kind of meat into the grinder and you will get freshly made sausages.
Pros:
Has tabletop clamp
Very secure
Has three cutting disks
Made of cast-iron
Can make sausages
Cons:
Clamp only works with 1-inch thick tables or less
The screw for clamp tends to rust
---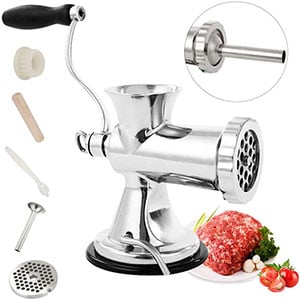 What You Will Love: The Huanyu Manual Meat Grinder is a stainless-steel option that comes with a shiny finish that gives it a more luxurious feel. The handle is made for easy turning so you won't get too fatigued even when using it for a long time.
Two Functions
This meat grinder works as two different tools with the ability to grind and stuff meats as needed. The grinder will finely cut up your meats, and the enema attachment will be able to stuff sausages for a fresh and homemade alternative to the grocery store.
Rust-Resistant
This stainless-steel grinder is made of 304 stainless steel, which is one of the strongest materials and is resistant to rust. This will keep the metal looking and working great for years without the need for you to do any upkeep.
Comes With Accessories
With the ability to make fresh sausages, you have an enema attachment included in this set that allows you to make the sausage easily. This attachment can easily replace the grinder head for whenever you want to switch it out.
Pros:
Stainless-steel build
Easy to turn handle
Has two functions
Is rust-resistant
Comes with accessories
Cons:
The table clamp is not very strong
Metal can still rust without routine cleanings
---
What A Manual Meat Grinder Can Do For You?
A hand-operated meat grinder needs to be a rugged, well-built appliance that is up to the challenge of grinding not only meat, but gristle, sinew, and small bones.
You'll need to have a feed chute which is large enough to grind bigger pieces of partially frozen meat or fully frozen meat without jamming up or clogging.
Your manual meat grinder could be made of stainless steel, aluminum, or industrial grade plastic, as long as it's up to the task of processing the amount of meat needed in a timely manner without clogging or glitching.
In the review section, we'll discuss which grinder is best suited for what particular task, from the needs of the hunter to the requirements of the home cook.
---
Important Features Of A Manual Meat Grinder
There is a perfect manual meat grinder out there for all different uses. First, there is the hunter, who might bag several deer each year.
They'll need a strongly built grinder with the capacity of handling a large amount of meat an hour.
Home cooks will be happy with a meat grinder that can be used for daily lightweight grinding jobs. Second, any grinder you choose should be easy to maintain.
It's a well-known fact that most meat grinders have the reputation of being very difficult to keep clean between uses, and almost impossible to keep sanitized.
A good meat grinder should have the ability to break down well enough so that a good soapy wash and sanitizing with some diluted bleach can be performed.
It's imperative that manual meat grinder/mincer owners know how to perform correct food safety practices when handling and cleaning a meat grinder.
Additional Features of Best Meat Grinder
Your meat grinder may also be able to perform other tasks, other than grinding big pieces of meat into much tinier meat pieces.
It may be able to process sausage, make pasta, baby food, puree or mince vegetables to make baby food or even whip up some gourmet pet food (bone meal included of course).
It should be able to take over the task of the mincing knife, for example. It should be adept at handling frozen meat.
It should be reliable, and not break easily. You'll want your grinder to take a licking and keep on ticking!
Related: Best Meat Slicer Buying Guide
---
How To Choose The Best Manual Meat Grinder?
If you are in the market for the best manual meat grinder, you may have realized that not everyone uses one and not every store carries one.
When you find a store that carries one, you will likely find that most store clerks cannot answer your questions about them. That is because these are not necessarily common items and the clerks probably do not have much experience in selling them.
As such, it is very important that you are educated on what to look for when shopping for one.
Being aware of your options and knowing what to look for before going in or searching online can eliminate the need for questions, or at least most questions. Always do your research before shopping, or even browsing, to prevent overwhelm and confusion.
Performance – How Well Does It Grind Meat?
If you are going to purchase the best manual meat grinder, you want to purchase one that is going to do what it is supposed to and do it well. Having a hand-operated meat grinder that does not grind meat well will be a waste of time and money.
What Meat Grinder Size Do You Need?
Manual meat grinders are available for different amounts of meat. Consider how much meat you will need to grind with it so you will know which size to look for. You do not want to purchase one too small or way too large for your needs.
Materials And Durability
The manual meat grinder could be made of metal, plastic, or a combination of the two. The blades usually come in carbon steel and stainless steel. All metal manual meat grinders will, of course, be stronger and carbon steel blades will be a little sharper.
Cleaning, Maintenance, And Care
One of the worst things to do is purchase an appliance that is too difficult to clean or maintain. Be sure that you find one that can be easily cleaned so that you can get all of the nooks and crannies. Also, check to see if any parts need to be oiled or need any extra care before getting it home and being surprised.
Cost
A budget is a crucial part of all purchases. Even if you have some money sitting in the bank, you want to be sure that you decide what amount you want to or can afford to spend before shopping. Going into a purchase without a budget in mind can have you later regretting the amount you spent. Carefully consider your budget before shopping.
Warranty
Manufactured products break down- that so just how it is. Some, however, break down much faster than others. It is important to check the warranty on a product before you buy it so you will know how long you have to get it fixed or replaced before the warranty is up. You should find a meat grinder that has a warranty of at least one year.
---
Manual VS Electric Meat Grinder- Which Is Best?
If you are trying to decide between purchasing a manual meat grinder and an electric one, you might be struggling to make the right choice.
Though neither is the wrong choice as they both have benefits, one may be a better choice for you and your needs. To make an educated decision, it is important to learn the similarities and the differences in the two.
While both grind meat, the two do it in different ways. The manual meat grinder uses only your power to grind the meat. This alone comes with both benefits and issues. First, it does not require a plug or use energy, and it can be moved around if need be.
Unfortunately, a manual meat grinder can leave the meat you are grinding exposed to the elements for too long, meaning it can bacteria has a longer period of time to grow on the meat.
Also, since you may get tired of using hand grinder every time you want to add a small portion of meat to your meal. Hand-operated meat grinders are smaller, cheaper, easier to clean, and easier to fix if it breaks.
Electric meat grinders have their own set of pros and cons. On the positive side, a manual meat grinder takes much less time, which leaves meat exposed to the elements for much shorter periods.
They are more powerful and have a more extensive grinding capacity.
The downsides are that they use electricity meaning that they will affect your energy bills, they are larger, so they take up more space, they must remain stationary so they can be plugged in, they are heavier and more expensive.
Sadly, they are also more difficult to clean and repair if something gets broken. Considering all of this information, your needs will be the determining factor in which one to purchase.
Do you grind a lot of meat at once? If so, it is probably a better choice for your time, health, and energy to purchase an electric one.
If you only grind smaller amounts of meat at once, a manual grinder is probably good enough. Consider your needs before purchasing.
---
Final Verdict: The Best Manual Meat Grinder
Adding a manual meat grinder to your kitchen appliances can be a very good idea for those who eat a great deal of meat, like to combine many ingredients and flavors, and want to take more control over what goes into their diet.
If you will only be grinding small amounts of meat at a time, a manual meat grinder can work out well for you. To minimize the risk of bacteria entering your ground food, have an airtight container close by and waiting so you can immediately transfer it.
Before starting your hunt for the best manual meat grinder for you, make sure you have completed enough research to make a confident purchasing decision.
More Meat Related Articles:
---