Quick Summary: It's no surprise that we chose the Vinturi Essential Red Wine Aerator Pourer and Decanter as our top pick. Vinturi has a diverse line up of aerators, pourers and decanters, all of which are stylish and affordable. The Vinturi Essential provides aeration, pouring and decanting, all in a spill-proof format and attractive design.
A wine aerator is an excellent tool for bringing the very best out of any wine, even the inexpensive ones.
There are several things to consider when looking at the best wine aerators. Some wine aerators are hand-held so that you can pour the wine directly through the aerator into a glass. Other wine aerators are small pour spouts that fit directly over the bottle, and others are used by pushing a button. Sizes range from a few inches long to the size of a wine glass.
Then there is the effectiveness: some have multiple chambers, others swirl the wine along their interior while mixing it with air. Most wine aerators typically are affordable, but there are budget as well as luxury options.
Wine aerators also are usually made of either acrylic, glass or metal. There are also electric aerators as well as manual aerators. Some are easier to clean than others: the simpler the construction, the easier it will be to clean after use.
But how do you know which is the best wine aerator for you? Are they as good as they say they are?
Read on for our extensive review of the 10 best wine aerators of 2023 on the market.
Quick Navigation:
---
Comparison of 10 Best Wine Aerators
| | | |
| --- | --- | --- |
| | This wine aerator comes with a base and will aerate your wine with one bottle of wine or one glass at a time. No waiting necessary, and features a stylish, classic and sleek look. | Read Our Review |
| | This premium wine aerator pourer has a large aerating chamber and air intake system for an improved wine drinking experience by infusing wine with oxygen. | Read Our Review |
| | Wine aeration with the push of a button, straight to your glass. Guaranteed ease of use, with no lifting, aiming, spilling, or waiting. Includes aerator, 2 tubes, batteries. | Read Our Review |
| | This glass and acrylic wine aerator dispenser has a multi-stage design ensuring 3 times more effective aeration, for a perfectly deliciously aerated glass of wine every time. | Read Our Review |
| | This acrylic wine aerator creates smoother red wines to enhance your wine drinking in the time it takes to pour a glass. Aerated wine with two aeration methods. | Read Our Review |
| | This in-wine-bottle wine aerator and gourmet decanter fits with both red and white wines. Tilt as you pour to achieve the level of aeration that you require. | Read Our Review |
| | This 2-pack has a compact design with a small aeration chamber and a tapered spout, and an extra aerator to bring to parties. Fits 95-98% of bottles. | Read Our Review |
| | This beautiful wine aerator features a stylish and compact black design and comes with a handy gift pouch. Made of heavy and durable plastic. | Read Our Review |
| | Improve your wine taste by pushing one button with this electric wine aerator that both aerates and oxidizes to soften tannins and enrich wines. | Read Our Review |
| | This electric aerator dispenser pump also acts as a decanter and automatic wine dispenser and will keep your wine fresher for longer as well as improve its taste. | Read Our Review |
---
Reviews of 10 Best Wine Aerators
Of course, you can always experiment with different options, depending on what you're looking for in your wine. We created and recommend the best wine aerators of 2023, which you can use to start on your wine journey.
Best Overall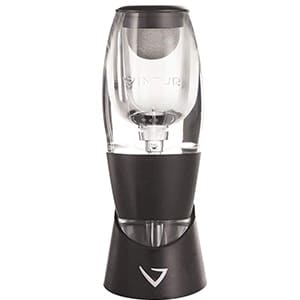 What You Will Love: The Vinturi Essential is a handheld wine aerator pourer, with advanced features such as a built-in filter for sediment and cork. With an attractive design that's meant to be displayed, the VInturi Essential is an affordable and classy addition to your home. We love the fact that its lightweight and easy to use: you don't need to wait for your wine!
Pour your favorite red wines out with the Vinturi Essential, a no fuss red wine aerator that you pour your wine directly through.
This attractive design is built to be a conversation piece, with a stand that both displays it and prevents any additional mess.
The Vinturi Essential is made of several parts, with a wide-mouthed pouring area to capture the wine without spills, a filter to remove pieces of cork or sediment, and finally an aeration system that truly brings out the flavor of any wine.
Whether you love recent, niche wines or older, classic wines, there's a benefit to aeration.
The Vinturi Essential is a fast, simple way to pour out wine to your guests, making sure they have the complete experience of the wine every time.
Not only is this a pretty affordable option, but it's also lightweight and handheld: you don't need to fiddle with an excessively large device, or keep a big appliance on the counter.
Need to wash it out? No problem.
The Vinturi essential also makes the process of washing it out trivial, by running water straight through it and washing away the remnants of the rest of the wine.
The Vinturi is likely to become a mainstay in your household, due to its ease of use and flair.
Pros:
One of the best overall to aerate a wine bottle quickly
Easy to use, simply hold over the glass and pour
Patented design mixes the proper amount of air for the right amount of time
Cleaning is easy as it's dishwasher-safe
Cons:
Doesn't fit in the bottle: pour glass by glass
---
Best Budget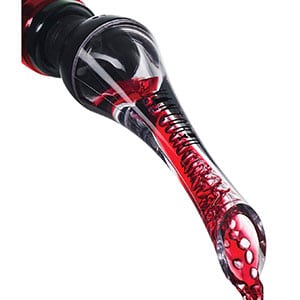 What You Will Love: With an elegant design and compact format, the Vintorio Wine Aerator is the perfect aerator and decanter for those on-the-go. The Vintorio neatly fits over any bottle, making it easier to pour while aerating the wine to perfection. You can take the Vintorio on picnics with you, or just keep it on standby in the kitchen to impress your guests every single time.
How can you tell whether a wine aerator is really for you until you try one out? You can get one for no investment at all with the Vintorio Wine Aerator and Pourer.
Sliding directly on top of the bottle, this compact wine aerator pourer makes it easy to pour out wine perfectly every single time. Not only does it mix the wine with air as it pours, but it also prevents any spills.
With a special, easy flow design, the Vintorio is able to aerate wine effectively in the space of an extremely small pour spout.
This allows you to pour your wine quickly, as there's no waiting for the wine to flow through the device.
You can pop the Vintorio on any bottle of wine and you can even take the Vinotrio with you, on picnics or to dinner parties.
An additional lifetime guarantee provides even more value to this small, compact, and affordable device.
If this was just a small and cheap device, of course, it wouldn't make our best-of-the-best list. The Vintorio isn't just inexpensive: it has a lot of technology behind it.
With a rubber gasket that fits snuggly into any bottle, a notched spout that pours perfectly every time and a swan neck that makes it easier to pour in any environment, the Vintorio Wine Aerator is sure to become a favored device in any kitchen.
Pros:
The rubber stopper is tapered and ribbed for a leak-free seal
The acrylic pour spout is notched and ergonomically slanted for easy drip-free pouring
The aerator can be disassembled and run under water for effortless cleaning
Cons:
This aerating pourer is not dishwasher safe (rinse with warm water)
---
Best Luxury Wine Aerator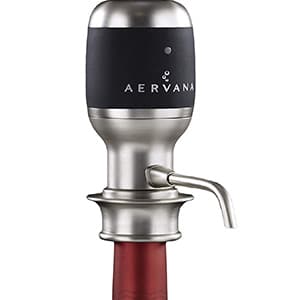 What You Will Love: The most impressive wine aerator on this list, the Aervana is a battery-powered one-touch luxury aerator that makes it possible to mix your wine with the right amount of air every single time.
We love the way the Aervana Original dispenses wine: straight from the bottle through a thin pour spout. And as an extra bonus, it dispenses with the sediment!
What's wine even about, if not luxury? If you really want the most sophisticated, technologically-advanced solution, you want the Aervana Original.
The Aervana Original fits over a bottle of wine as it stands. With a single touch of the top, the Airvana will dispense perfectly aerated wine through a single small pour spout. Perfect for large events or dinner parties, the Aervana aerator is impressive each and every time.
This dinnerware makes it far easier to pour wine, as you don't need to tip over the wine bottle or worry about drips and spills. Instead, the wine bottle dispenses wine easily without having to be tipped.
It's designed to aerate the wine extremely effectively, providing best-in-class aeration within the device itself. And that means that regardless of the wine you're drinking, you'll get the best possible experience every time.
A special design also makes sure that sediment stays in the bottle rather than in your glass. And despite being pretty complex, the aerator itself is fairly compact.
There are downsides with the Aervana, though: it is expensive and it requires batteries to operate, which means you could end up out of luck if your aerator loses its charge.
It's also one of the more complex options on this list, both in terms of setting it up and cleaning it. Since it uses tubing, the tubing has to be well-cleaned between bottles to avoid cross-contamination.
Pros:
The aeration process is quick and easy by pushing a button
Wine sediment is kept in the bottom of the bottle and not in your glass
Speedy premium aerating with more air contact surface to make oxidation fast
Cons:
Requires six AAA batteries which are included but which must be replaced periodically
---
Best Wine Aerator With Decanter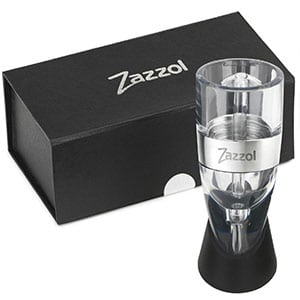 What You Will Love: Get the best wine experience you can have quickly with the Zazzol Wine Aerator Decanter, a large-mouthed aerator that lets you pour your favorite wine directly into it and through to your glass. A no fuss aerator, the Zazzol is small enough to fit on your counter and attractive enough to stay there permanently. We love how easy it is to use, and the fact that it doesn't leak!
A versatile as well as affordable option, the Zazzol Wine Aerator Decanter gives you absolutely everything you need to elevate your wine-drinking experience.
With a three-stage design, the Zazzol first collects the wine through the decanter and then filters it through an umbrella sprayer, drizzle plate and forced air vortex. Finally, the wine is perfectly poured directly into the glass.
Recommended by Business Insider, the Zazzol wine aerator has a few major advantages: a stand that's designed to display it, no potential areas for drips or leaking, and a deep chamber that you can pour a lot of wine into at once.
The build of the Zazzol Wine Aerator means there's no waiting: you pour the wine directly into the aerator and the aerator pours it all out, perfectly blended.
The most attractive feature of the Zazzol is its simplicity: you pour in, the wine pours out. This simplicity also makes it easy to maintain.
The device itself is small enough to live on your countertops without being obtrusive, but the power it packs is significant.
Pros:
Comes with an attractive presentation box and its beautiful design makes a great gift
Simple design avoids leaks, drips, or overflow
Recommended by Business Insider
No waiting for the wine to breathe
Cons:
Some users report a leaky seal between the top and bottom sections of the aerator
Related Reading: Best Wine Decanter
---
1st Runner-Up (Wine Aerator With Decanter)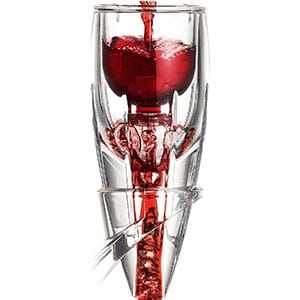 What You Will Love: If you want a simple, no complication aerator, you really can't go wrong with the Vintorio. The Vintorio Wine Aerator OMNI edition is an attractive display piece and wine aerator, which makes it easy to pour directly into your glass. We love how easy the cleaning is, as well as how attractive it looks on the shelf.
An impressive, premium decanter solution, the Vintorio wine aerator pourer uses two separate aeration processes to ensure a smooth mix every single time.
With traditional funnel aeration and modern aeration protocols, the Vintorio wine aerator pourer is a classy and dramatic way to pour. Not only does it make your wine taste fantastic, but its clear glass body means you can see the aeration as it occurs.
The Vintorio wine aerator pourer comes with a lifetime guarantee, which means you'll be pouring wine perfectly for a long time to come.
Its sleek design makes it easy to use and easier to clean, while its premium gift box means that it can double as both an appliance and also a display piece.
If you want an aerator that's functional as well as well-designed, the Vintorio Wine Aerator is a good solution for you.
Features include the ability to break apart into two for easier cleaning, a wide mouth that makes it easy to pour wine quickly and high quality acrylic design. It can be easily used with any wine and any wine glass, making it the perfect utility for any kitchen.
Pros:
Aerating wine is easy with a combination of spray injection and air aeration
No side holes or small pieces, making this aerator easy to use, maintain and clean
Durable design with 100% high-quality acrylic
Premium gift box packaging
Cons:
Slower to aerate bottles of wine than other models
---
2nd Runner-Up (Wine Aerator With Decanter)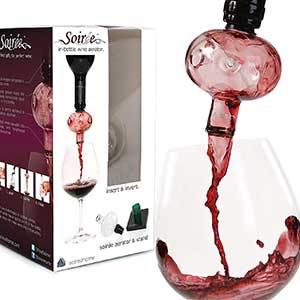 What You Will Love: The most elegant aerator on this list, the Soireehome is an aerator that's made out of a single piece of high quality glass. Wine runs along the inside of this attractive glass piece, mixing it in with the air as it pours safely into a glass. We love the way the Soireehome aerator looks: it's a single, dense glass piece that is easily cleaned.
Plug this aerator directly into the bottle to use it as a decanter. This simple aerator is nevertheless extremely flashy and elegant.
It's made out of a single piece that's constructed specifically to aerate the wine through liquid physics, causing the wine to run along the inner wall of the glass in a perfect, swirling motion. The air is well-integrated into the wine in order to immediately enhance flavor.
A premium quality decanter and aerator, the Soireehome is made out of high quality glass. With few parts, it's easy to wash out and maintain: in fact, it's probably the easiest to wash out on this list.
The small opening is the same size as a traditional bottle, providing a convenient and clean pour spout that refrains from dripping and splashing.
This aerator puts presentation at a premium: it's not the most complex aerator available but it's definitely the one with the most charm.
Compact and simple to use, it's a good "starter" aerator or entry-level aerator: because it has no moving parts, it's likely to last a long time. Take it along with you on a picnic or just set it on the counter to use on-the-fly: at the price, it can't be beat.
Pros:
Perfect wine aerator for both red and white wine
You have full control over the level of aeration by tilting the bottle
Dishwasher-safe
Comes with a stylish drying rack
Cons:
Made of hand-blown glass, so it's sturdy yet more fragile than acrylic or steel models
---
Best Pouring Wine Aerator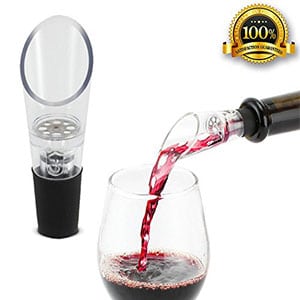 What You Will Love: Take this premium decanter spout anywhere: you even get two of them. With a rubber cap and small spout, the Wine Aerator Pourer avoids any spills, while also providing basic aeration whenever you pour. We love the small format of this design, as it's the perfect entry-level product for someone who wants both a spout and aerator in one.
Conveniently available in a two-pack, this affordable and direct wine aerator is just a small spout that fits onto any bottle.
Its special technology and design enables it to aerate wine despite its compact size, swirling the wine through a small chamber before it's neatly poured directly into the glass.
If you want something that's direct and easy to use, it's really hard to beat this compact and transportable option.
At the end of this wine aerator is a sturdy, plastic rubber cap, which forms a complete seal with the wine bottle. Pop the pourer in and immediately begin experiencing and improving your wine.
Small enough to go anywhere (and coming with a special gift box that makes it easier to travel with it), this wine aerator can be rinsed out with warm water quickly to clean.
In addition to having a clever design that takes advantage of the Bernoulli effect, this wine aerator also comes with a 100% guarantee.
If you don't adore the way that it makes even cheap wine taste, you can return it. Keep your extra wine aerator with you for parties and events, or give it to a friend or family member who also adores wine.
Pros:
Plastic spout with silicon cap is easily washed and ready to use
Rubber stopper creates a leak-free seal
Tapered spout prevents leaking to protect tablecloths
Comes with a gift box, so perfect for a present
Compact design so easy to take with you
Cons:
Only fits into wine bottles, not usable otherwise
---
Runner-Up (Pouring Wine Aerator)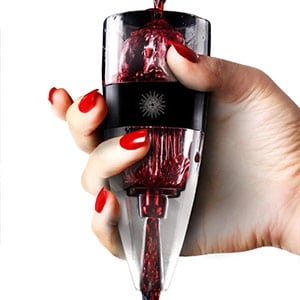 What You Will Love: One of the most highly rated wine products available, the Vinluxe lets you pour your wine directly through the device and into the glass. An attractive product that you'll be tempted to display, the Vinluxe is about the same size of a wine glass and can protect your wine from spills. We love the transparent interior, which shows off the wine as it's poured.
The Vinluxe Pro Wine Aerator and Decanter is one of the most highly rated products, both on Amazon and by wine lovers everywhere.
It's easy to see why: this stylish, wine-shaped aerator is small enough to fit in the palm of your hand, but packs a significant punch.
Pour the wine in the top and you'll immediately see it swirl around the interior of the device, mixing air into the wine before it's dispensed at the bottom.
The Vinluxe has a simple design: hold it above your glass, pour the wine in, and the wine will go straight through and neatly fill your glass.
With a broad mouthed top and a small bottom spout, the Vinluxe reduces the chances of spilling your precious, aerated wine. The transparent interior makes it possible to watch the wine as it swirls, and adds a layer of elegance and glass.
Not only does the Vinluxe Pro come with a special gift carrying pouch (perfect for events and storage), but it's also a fairly affordable option. With no moving parts, it'll last a long time: and it's cleaning is easy by just rising it out.
A special included stand makes it possible to display the aerator when it's not in use, and its small footprint means it doesn't take up much counter space.
Pros:
Aerates wine 300% faster than decanters
Comes with attractive gift pouch, makes a handy present for wine lovers
Works well with both red and white wines
Is a diffuser and pourer so it's easy to use
Cons:
This model is not suitable to be cleaned in a dishwasher
---
Best Electric Wine Aerator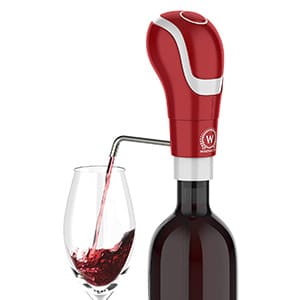 What You Will Love: Aerate and decant your wine with the push of a button with the Waerator instant. While this aerator and decanter is packed with technological features, what we really love about it has to be its classic style. This wine aerator looks like it would be at home at a 1950's malt shop, and it'll also look great on your counter or at your next event.
With a 1950's style and elegant, push button operation, Waerator makes it possible for you to aerate and decant your wine within seconds.
The Waerator fits over a standing bottle: push a button, and the wine is instantly aerated and comes out from a spigot in the top.
Your wine is aerated for you perfectly each and every time, while also making it easier to pour your wine without spills.
In addition to aerating your wine, the Waerator is also able to filter and remove any sediment from your wine. It's easy to maintain: just dip it into fresh, clean water and press the button, and you'll have it emptied out in no time.
Additionally, it's not all that much more expensive than other aerators and decanters, despite the additional functionality.
Of course, being electric does add some complications, and no one ever wants to find out that their wine has run out of batteries.
Nevertheless, if you're looking for a technologically-advanced way to both dispense and improve upon your wine, the Wearator Instant 1-Button can help. It's available in an attractive black and red, with sophisticated chrome trim.
Pros:
Simple one-button function
Works with all type of wine
Dual infusion & suction system to avoid spills and sediment
Airtight rubber seal, best electric model to keep wine fresh while drinking
Cons:
You'll need to draw clean water through the wine aerator to clean it
Requires 4 AAA batteries
---
Best Stainless Steel Electric Wine Aerator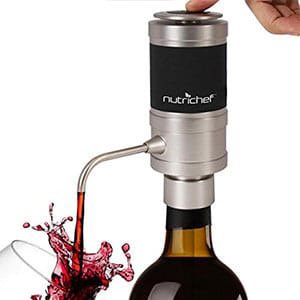 What You Will Love: Remove sediment and pump your wine quickly with this battery-powered decanter system. If you want something technologically advanced, commercial, and industrial, the NutriChef is the Best Wine Aerators on the market. We love how easy this is to use and how adjustable it is: it even comes with multiple straws for different sizes of wine bottle.
Food-grade stainless steel and matte black designs make the NutriChef decanter diffuser system contemporary and impressive.
An electric aerator pump aerates and decants wine from a standing bottle, with the push of a single button at the top.
Not only is the design of the NutriChef attractive, but it also comes with a flashy carrying case for your next event. The NutriChef can fit over any wine bottle, with both soft straws and hard straws to be used in bottles of any size.
Wine is pulled into the aeration device and then distributed through a rust proof pour spout, which also provides superior freshness. Wine isn't exposed to air until it is aerated, meaning that the wine itself last longer.
Powered by 4 AAA batteries, the NutriChef can be installed on a bottle within a few seconds and its charge will last a long time.
While it's a little more expensive than some of the other options on this list, it makes up for it with its simplicity and its ease of use. Just pop it on and it's ready to go.
A set of NutriChef decanters and diffusers is also perfect for your business or next corporate event.
Pros:
Universal fit attaches to all types of wine bottles
Easy to attach and detach
Non-splash, no-mess metal spout
Diffuse aerated red or white wine into your glass at the touch of a button
Comes with 2 soft straws with extra length
Cons:
Can be challenging to open the mechanism to insert the batteries
---
How to Choose the Best Wine Aerator?
Have you ever wished you could make your $10 bottle of wine taste like a $50 bottle of wine? With the best wine aerators on the market, you can.
Wine aerators are used to quickly mix wine with air, enhancing its flavor profile and the smoothness of the experience.
Traditionally, wine is allowed to breathe in large, shallow wine glasses, but this takes some time. Aeration adds more air to the wine faster, making even cheap bottles of wine taste and feel expensive.
There are an extraordinary number of wine aerators out there. To make a decision, you need to consider:
Style
Some aerators are designed to be hand-held, pouring the wine directly through the aerator and into a glass.
Other aerators are tiny pour spouts that fit over the bottle itself: these are easier to use but may not provide as advanced aeration. Still others fit over the top of a standing bottle, and are used with the push of a button.
Size
Aerators range in size from a few inches in length to the size of a wine glass. Depending on whether you generally use your aerator at home or you want to use it on-the-go (at picnics and events), the size of the aerator may matter.
You may even want to have a small one for events and a larger one at home.
Effectiveness
Each aerator has its own method of aeration. Some swirl the wine along with their interior, mixing the wine with a small amount of air. Others have multiple chambers, through which the wine swirls and bubbles.
Depending on the amount of aeration you want, you may find one aerator better tasting than another.
Budget
Most aerators are fairly affordable, but there are still budget options and luxury options as well. If you want the best aerator that you can find, you may be looking at the higher end.
If you just want to try something out, there are a number of fantastic entry-level options, some of which can even be found in packs of two.
Construction
The best wine aerators are most likely to come in acrylic, glass, or metal. Acrylic and glass aerators make it possible to see your wine when it's being aerated, which adds some flash to the process.
Metal aerators look contemporary, sophisticated and sleek. It depends on what fits best into your home's kitchen.
Technology
There are both electric and manual aerators available. Manual aerators just use physics to move the wine from the top to the bottom of the device, while electric aerators are able to pump wine from the bottom.
Electric aerators are more expensive but they also tend to provide removal of sediment.
Cleaning
After you've finished your wine, you want an easy cleaning process. The simpler the aerator is, the more likely it is to be easy to clean: just rinse it out and you're fine.
Some of the more complex aerators need to be disassembled to be cleaned, which can be difficult to do in between bottles to avoid cross-contamination.
---
More Wine Related Articles: