Quick Summary: Our top choice for a soy milk maker is the Joyoung Automatic Soy Milk Maker. This machine is completely stainless-steel and comes with a free soybean package for you to get started with. Plus, with the one-button operation, you can push one button and have fresh soy milk.
Have you ever wanted to make delicious, refreshing, and nutritious soy milk in the comfort of your kitchen? If so, now you can do precisely that with the help of the best soy milk makers.
But that's not all. Besides soy milk, you will be able to prepare the healthiest smoothies, tastiest fruit juices, and most impressive cocktails. That's right,soy milk makers are that versatile.
Soy milk is an excellent substitute for cow's milk if you are vegetarian or lactose intolerant. But buying commercial and processed soy milk is not such a great option because store-bought soy milk can contain chemicals and preservatives that could harm your health.
That is why the perfect solution is to make your own soy milk with one of these best soy milk makers.
If you're unsure how to pick the best soy milk maker that will satisfy all your needs and give you the tastiest soy milk in the world (and more), then you should keep reading.
We prepared a handy buying guide where we reviewed the best soy milk makers on the market right now, so you can easily make your decision and start enjoying homemade soy milk in no time.
Quick Navigation
---
10 Best Soy Milk Makers Comparison
| | | |
| --- | --- | --- |
| | The Joyoung automatic soy milk maker is a computer-controlled option that can heat, grind, and cook soybeans with the push of a single button. | Read Our Review |
| | The Green Electronics gourmet self-cleaning soy milk maker works to make soy milk and also works as a juicer for a healthy diet on the run. | Read Our Review |
| | The SoyaJoy is a soy milk and soup maker that is made from all stainless steel and comes with bottom heating technology that ensures perfectly cooked soybeans. | Read Our Review |
| | The Tayama is a 1.1-liter soy milk maker that can be used for dry or soaked beans but also makes soups, veggies juices, and rice or bean paste. | Read Our Review |
| | The Joyoung easy-clean option is a soy milk maker that includes a pack of soybeans that has an LED indicator and pour spout that makes it easy to dispense. | Read Our Review |
| | The SoyaJoy G4+ is a safe option that features multiple features like a boil over sensor and water level sensor and has a quieter operation than other options. | Read Our Review |
| | The SoyaPower G4 is a unique option that works for making soy milk, almond milk, and soup all in one machine with a red floral design on the exterior. | Read Our Review |
| | This Joyoung soy milk maker model is an updated design that comes with a sleek exterior that is modern and needs no filter for normal use. | Read Our Review |
| | The Idavee PrestoPure is a 1.9-liter milk maker that can be used to make soy milk, almond milk, and rice milk and has seven functions to choose from. | Read Our Review |
| | This Joyoung model is super fine grinder that allows you to make smoother soy milk or nut milk and comes with a pack of soybeans for your first batch. | Read Our Review |
---
Top 10 Soy Milk Makers
Best Overall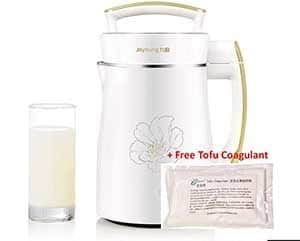 What You Will Love: Who says that you cannot have a machine that is both stylish and proficient? The Joyoung CTS-2038 system can be programmed to preheat, grind, and cook contents with the touch of a button.
The soy milk maker is the ideal appliance for individuals on the go why have a small window of time to make their beverages and head off for a day of work in the morning.
This machine has a stainless steel interior that is durable and perfect for the health-conscious person. Cleaning up this maker is a breeze as there are no internal filters to purify.
Pros:
Makes up to 1.7 liters of milk from soy beans, almonds, mung beans, or corn
One year warranty
Filterless
Strainer included
Cons:
Instructions are not clear
Works best with overnight pre-soaked beans
---
Best Budget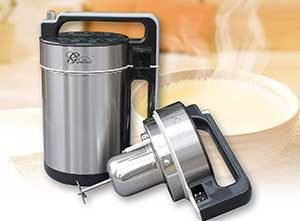 What You Will Love: Just when you think that a manufacturer cannot get more health-conscious than an automatic soy milk maker, the company makes it a juicer as well.
This machine is stainless steel and has several programs for grinding everything from rice to almonds. Cleanup is also fairly easy.
Pros:
Sele cleaning with or without heating
110-120V, 60Hz
Preset cooking programs for dry bean soy milk, rice congee, bean paste, soup, and stew
Grinds large amounts
Cons:
Beeps for thirty seconds after every action is complete
Poor quality
Instruction booklet not clear
Not as durable as some competitors
---
Best Soy Milk Maker Plus Soup Maker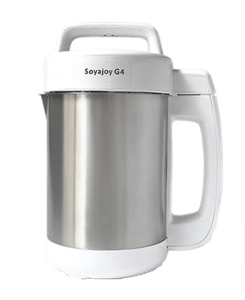 What You Will Love: It doubles as a soup maker and has a stainless steel interior that maintains the integrity of its contents.
The SoyaJoy G4Soy is one of a kind with its design and efficiency. The grinding and cooking chamber is stainless steel, and there are five options for cooking milk and healthy soup.
Advanced temperature and water sensors ensure that the end result of this soybean milk maker is excellence.
Pros:
Filter-less design
Bottom heating technology
Makes large quantities
Makes coconut milk as well
Cons:
Does not work well in puree mode
Difficult to clean
Heating cycle is too short
Soybean produced is thin and lacks body
---
Best for Durability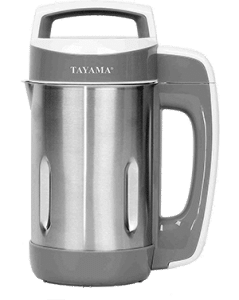 What You Will Love: The Tayama automatic soy milk maker has four options for grinding beans and making milk. This machine comes with a strainer, measuring cup, and cleaning pad.
You can either opt to have your drinks pureed or go for the chunky appeal with this 1.5L-capacity machine.
Pros:
Options for making soy milk, rice or bean paste, fruit and vegetable drinks, or pureed soup
Also great for making cashew and almond milk
One -layer steel body
The economical option to its competitors
Cons:
Recipe book not included
Does not hold up to 1.5L
Body is hot during creation process
Water can easily get into open air vents during cleanup
---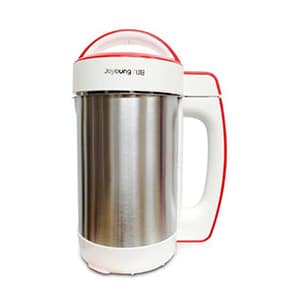 What You Will Love: It comes with a pack of free soybeans and makes homemade milk that plausible. Even an amateur can figure out the features on this soy milk machine.
The full stainless steel design ensures longevity and efficiency as the integrity of the contents is maintained by the strength of the metal.
The LED status indicator is one of the many features that makes this appliance ideal for the beginner.
Pros:
Easy to clean
Full grade stainless steel design
One year warranty
Strainer included
Cons:
Manufacturer does not honor warranty
Instructions are not clear
Not as durable as its competitors
Does not cook porridge well
---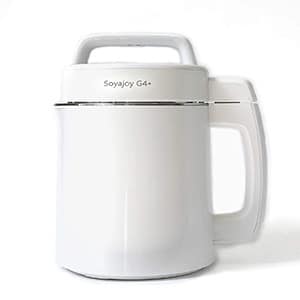 What You Will Love: The SoyaJoy G4+ is a soy milk maker that allows you to make your favorite soy or nut milks at home for fresh non-dairy milk whenever you want it. This 1.7-liter capacity allows you to make enough for the week in one day so it doesn't become a daily chore.
Insulated Material
The inside of this soy milk maker is insulated to keep the heat inside so that the soybeans cook faster and you get your milk when you need it. This insulation also makes the operation of this machine much quieter.
Temperature Sensor
The SoyaJoy soy milk maker has a temperature sensor that keeps that heat at a reasonable level so that your milk doesn't get burned or dried out. This also makes the boiling process for the beans much more effective.
Solid-State Electronics
The electronics that come with this model are solid-state and last longer than any others out there. The controls for this machine are simple and easy to use so the electronics do all the hard work for you.
Pros:
1.7-liter capacity
Easy to use
Has insulated material
Comes with temperature sensor
Has solid-state electronics
Cons:
---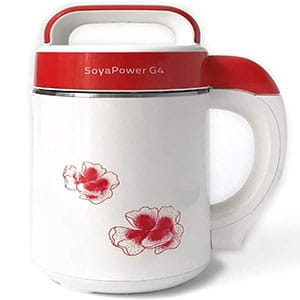 What You Will Love: The SoyaPower G4 soy milk maker is a 1.3-liter option that can be used for all different kinds of non-dairy milks. With the ability to make soy milk, almond milk, and even rice milk. The all-stainless-steel build makes it durable for years of use.
Bottom Heating Technology
This SoyaPower model has a bottom heating technology that allows the soybeans at the bottom of the container to get fully cooked and boiled to ensure that your soy milk is not chunky or in need of straining.
Insulating Plastic
This soy milk maker has insulating plastic on the exterior of the container that keeps the heat inside the machine better and also keeps the noise level to a minimum when the machine is on and running.
Filter-Free Design
This machine does not need to use any filters to make your milk and saves you from having to replace multiple filters over time. This also makes the unit much easier to clean without needing to scrub the filter too.
Pros:
1.3-liter capacity
All stainless-steel build
Bottom heating technology
Insulating plastic exterior
Filter-free design
Cons:
The instructions for use are pretty unclear
Need to unplug the cord to stop the operation
---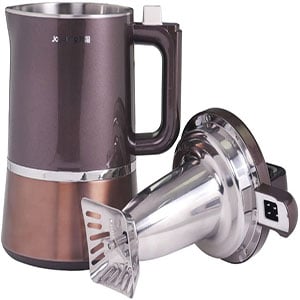 What You Will Love: The Joyoung soy milk maker is a traditional soy milk maker that is designed for Chinese meals and can be an addition to any traditional Chinese dinner. This machine can be used to make tofu pudding, nut milk, rice pudding and milk, and many other dishes.
No Filters
This machine is designed to be used without the need for a filter that will need to be changed eventually. This will make clean up easier and save you money on buying multiple filters periodically.
High-Speed Motor
This soy milk maker contains a high-speed motor that grinds the soybeans into smaller pieces, which makes your milk smoother and less lumpy. This motor can also cut through nuts quickly so you can use it for almond or cashew milk too.
Warm Function
This machine comes with a warm function that allows the milk maker to stay at a higher temperature that will keep your drink nice and warm for serving. This works better than a regular countertop microwave and will not burn the milk.
Pros:
Traditionally made
Makes many dishes
Requires no filters
Has a high-speed motor
Has a warming function
Cons:
Has a loud beep when buttons are pressed
The operation is fairly loud when running
---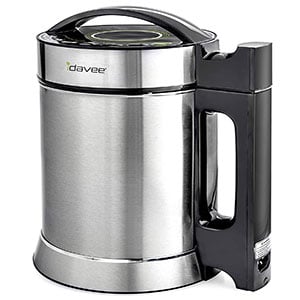 What You Will Love: The Idavee PrestoPure is an automatic soy milk maker that you can use for nut milks or rice milks, or even puddings. The stainless-steel build makes it extremely durable and even includes recipes that you can use to start with.
Two-Layer Steel
The PrestoPure soy milk maker is made with two layers of stainless steel that make it very durable and able to last through heavy use. This also gives an extra layer of insulation to keep the noise level down.
Seven Functions
This soy milk maker model allows you to use all seven functions to make soy, almond, cashew, or rice milk, as well as soup, juice, oatmeal, and porridge.
1.9-Liter Capacity
This model comes with a 1.9-liter capacity that is one of the largest options on the market. You can hold more than most models and make large amounts in less time without needing to make multiple batches.
Pros:
Stainless-steel construction
Two-layers of steel
Insulation for quiet operation
Seven functions for use
1.9-liter capacity
Cons:
Can't make milk that can be used for yogurt
Meant for only tap water, not filtered or distilled
---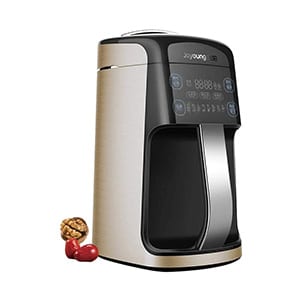 What You Will Love: This Joyoung superfine grinder and soy milk maker that lets you turn soybeans into soy milk within a short time and gives you fresh non-dairy options for those who are lactose intolerant. This item comes with a warranty that is good for a full year to protect you from any issues that might occur.
1300ML Capacity
This large option allows you to make enough soy milk for the whole family with its 1300ML capacity. This will make enough milk for up to four people and can be used to make enough for the week for a single person or couple.
Temperature Presets
You don't have to make any guesses with the heat of this soy milk maker because it comes with temperature presets that let you choose what temperature you want to set it at, then the unit does the rest of the work.
Includes Soy Beans
This product comes with a package of soybeans so that you don't need to purchase them yourself for the first use. This allows you to get used to the way this machine works and saves you money on the first batch of beans.
Pros:
Superfine grinder
Non-dairy options
1300ML capacity
Temperature presets
Comes with soybeans
Cons:
Does not work with soaked or wet beans
Might need to use a filter
---
How to Choose the Best Soy Milk Maker?
Deciding to buy a soy milk maker is one thing, but determining which machine is right for you is quite another. There are many appliances out there.
It is very easy to get caught up in the hype of things and purchase a gadget that is useless to you and the family.
When determining what soy milk machine is right for you, consider the following:
Purpose – Do you simply want your machine to make soy or almond milk? Or, do you expect it to do more than grind nuts and churn out healthy liquids? If you are one who expects your soy milk machine to also serve as a soup maker, then you may want to consider looking into a stainless steel maker that has different presets. You will do fine with an economical machine if your only desire is to make soy milk at home instead of having to buy out all of the time.
Cleanup – No one wants to walk into the kitchen after a hard day of work and be forced to wrestle with a milk maker that has too many attachments. The concept of the best soy milk maker is simplicity. You should be able to make a cup of milk and clean up after yourself with ease.
Grinding abilities – Having a milk maker that only produces beverages with chunks of nuts is problematic. What if you feel like consuming a pureed drink right before bed? You should not have to forget your desire to have a healthy glass of soybean or almond milk simply because your machine does not know how to adjust its settings. It has several adjustments so that you can enjoy the beverage of your choosing.
Temperature – A soybean milk maker that does not heat up is worthless. Your machine should be capable of warming quickly.
---
FAQS
What Makes the Best Soy Milk Maker?
Several elements go into a great soy milk machine. An appliance that doubles as a soup maker or juicer is a definite treasure. Every gadget that serves a purpose for more than one thing in the kitchen replaces a machine and provides more counter space.
Another element of a good soy milk maker is its ability to produce other types of milk. Almonds, rice, and even vegetable beverages should be able to go through the same process without you having to make significant changes in preparation. A milking machine that doesn't respond to walnuts in the same manner that it chops almonds is not a stellar appliance.
How Quickly Should the Appliance Heat Up?
While warming times vary by brand, it should not take a modern soy milk machine half the day to gain stamina. The average appliance is similar to a coffee maker in that it warms between five to fifteen minutes after being activated.
Does a Soybean Milk Maker only Produce Milk?
The best soybean milk machine produces milk, soup, and juice. Transitioning from one beverage to the next is oftentimes a matter of pushing the right button and adding the proper ingredients.
It is important to note that making soybean milk usually comes with the option of doing so with wet or dry beans. Such a choice is typically a matter of pushing the right button as well.
How is the Soy Milk Maker Cleaned?
Filterless milk makers are the easiest to clean because there is no additional accessory to detach and purify.
Most modern appliances can easily be cleaned with dish soap and water. Scrubbing a milk machine in efforts to purify it is usually not necessary unless you use the appliance several times before thoroughly cleaning.
Where to Buy Soy Milk Maker?
Purchasing milk machines online is the best option as authentic appliances are rarely sold in brick and mortar retail stores in the United States.
It is always wise to purchase from a trusted source online and ensure that a warranty is in place so that you can either exchange or return the product if it does not meet your expectations.
---
Our Recommendation For The Best Soy Milk Maker
The Joyoung Automatic Soy Milk Maker has the bells, whistles, and craftsmanship that make an appliance great. This machine is similar to a coffee maker in that it makes grinding and producing milk simple.
You can program the type of beverage that you want the night before and push the button in the morning for a drink that is delicious and healthy.
Water Diversion Technology sets this appliance apart from the competition since no other soybean milk maker has six protective functions like this device. You can rest assured in knowing that the Joyoung CTS-2038 is built to last for many years.
Hopefully, this best soy milk maker guide has served as a resource so that you can select the best machine that fits your preferences.
Feel free to share this automatic soy milk maker guide with friends on social media!
---
Related Article: