Quick Summary: When looking for an ice crusher, there are certain things you need to think about: the cost, the durability, the performance, and more. With these things in mind, we chose the Best Choice Products New Ice Crusher Machine as our top pick. It is strong, durable, and offers great treats at a fair price.
If you like to start your mornings with a tasty smoothie or you love to serve snow cones to your family, then an ice crusher isa must-have! The best ice crushers are designed to turn hard ice cubes into small, slushy pieces quickly and efficiently.
There are different types of ice crushers available; you can go for models that make small, hard pieces of cracked ice, which are great for cocktails. Or you can get a model that crushes ice into a soft, snow-like texture, perfect for shaved ice treats.
With so many different models available on the market, it's difficult to decide which is the best ice crusher for your home. The decision ultimately depends on your personal preferences. You can choose a manual crusher that requires you to turn a crank by hand. There are also electric crushers that save you time and effort but tend to be more expensive.
We listed ten of the best currently available on the market in our buying guide and reviewed each model to help you make a well-informed decision. We should point out, all our ice crushers have one feature in common – they will crush ice to perfection.
Quick Navigation
---
10 Best Ice Crushers Comparison
| | | |
| --- | --- | --- |
| | Sleek and eye-catching, this stainless steel ice crusher is great for home use to make slushies and frozen drinks to cool down during hot summer days. | Read Our Review |
| | With a highly efficient motor, combined with an alloy steel shaving blade,this ice crusher can produce 143 pounds of ice per hour to meet even the largest demands. | Read Our Review |
| | Equipped with an anodized aluminum casing and hopper and a stable, heavy cast base, this crusher is durable and easy to use. | Read Our Review |
| | This manually powered ice crusher will always provide you with the perfectly shaved ice every time without needing an electrical outlet –ideal for picnics where the electric power isn't available. | Read Our Review |
| | This heavy-duty crusher features brushed a stainless steel frame and is equipped with stainless steel blades and an ice chute for fast and effective crushing.It can store up to 12 cups of crushed ice. | Read Our Review |
| | Sharp dual blades will provide you softer, finer, and fluffier snow-like ice, and a powerful electric starter motor will crush large amounts of ice in no time. | Read Our Review |
| | This ergonomically designed ice shaver is easy to use, and it comes with a stainless steel bowl for convenient serving and easy cleaning. | Read Our Review |
| | This hand-powered premium portable ice crusher comes with a practical mold to freeze up to 15 ice cubes. | Read Our Review |
| | Produces a huge amount of crushed ice in a short period of time for any kind of drink by simply turning the chrome-plated steel handle. | Read Our Review |
| | A manually powered crusher with stainless steel blades, this crusher can crush ice to two different textures, and has a strong-grip suction base to keep the unit securely in place. | Read Our Review |
---
Reviews of 10 Top Ice Crushers
We searched through ratings and reviews from buyers and experts of many ice crusher models to bring you what we consider the top ice crushers.
Though there were lots of good options out there, we were able to get our list down to the following five ice crushers based on their durability and performance.
Best Overall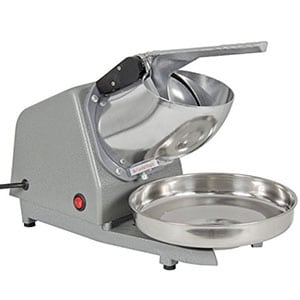 What You Will Love: This kitchen gadget does more than crush ice- it also shaves it for snow cones on hot days.
This handy dandy ice crusher can shave or crush 143 lbs of ice per hour. It has a waterproof on/off switch and automatically turns off when the handle is up.
That can give you some peace of mind about using it around little ones. It has a heavy base and is simple to operate.
The sleek look, awesome performance, and safety features make it one of the best shaved ice machines, in my opinion.
The only downfall I can find is that Best Choice Ice Crusher is a pretty pricey investment, but the strength and durability may make it worth the cost.
Pros
Crushes and shaves ice
Useful kitchen tool for snow cones
Automatically turns off when handle is up to prevent accidents
Simple to operate
Heavy base keeps it sturdy
Cons
Pricey investment
---
Best Budget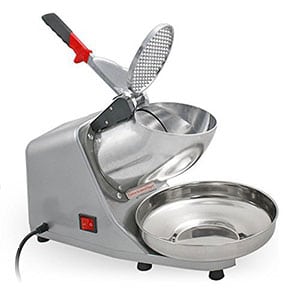 What You Will Love: This ice crushing machine is useful for making Icees and snow cones at a great price.
The F2C shaving blade is made of sharp alloy steel which means it shaves the ice with ease. It is made with a solid plastic base and an aluminum casing and hopper, so this kitchen tool should last for a while.
You can use it for Icees, slushies, snow cones, and other frozen drinks. Some buyers report it being the best shaved ice machine they have ever used.
I am considering investing in one for those unbearably hot summer days when my kids are miserable. I can see how it would cool the kids off and brighten their day. I have only been able to locate one downside.
There is a knob that you can use to change between coarse and fine shaving. Some users have reported that the knob do not really work very well.
Pros
Shaves ice in minutes
Great for making snow cones and frozen drinks
Durable material
Well made
Great price
Cons
The knob designed for changing between coarse and fine shaving does not always work
---
Best Electric Ice Crusher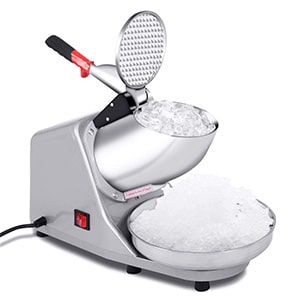 What You Will Love: This reasonably priced shaved ice machine can shaved 143 lbs of cubed or crushed ice per hour.
The Goplus Electric Ice Shaver is made with an aluminum casing and hopper as well as a heavy cast base to provide stability when the machine is working.
The on/off switch is water resistant and there is a safety cover switch. For extra safety, the unit turns off when the cover is open.
It includes a stainless steel bowl to store the shaved ice until use. It is very simple to clean and operate, and it is powerful enough to use in bars and restaurants. There is a variety of reported ice consistency. Some users state that it provides fluffy ice while others state that it is not as fine as they would like.
A few users also complained that it was a bit loud when it is shaving the ice, but if you can tolerate that, this machine is a winner at a low price.
Pros
Good price
Waterproof on/off switch
Heavy cast base
Durable materials
Safety features
Easy to clean
Powerful
Cons
May not provide ice shavings as fine as you would like
Machine can be loud
---
Best Manual Ice Crusher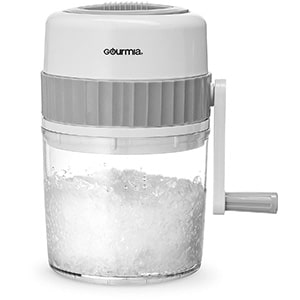 What You Will Love: This hand cranked ice shaver has stainless steel blades to shave through the ice quickly.
Some people may prefer a manual ice shaver as opposed to an electric one because they are more easily portable and quieter.
If a manual is what you are looking for, you should consider this kitchen ice crusher. Gourmia GIC9635 Manual Ice Shaver is both durable and BPA free.
It can also be used as an ice bucket by leaving the shaved ice in the shaver after its ready. It is easy to use, easy to carry anywhere you go, and a great ice cube crusher for snow cones and frozen drinks. The price is extraordinarily affordable, too.
The only downside I can find is the fact that it is manual. While this will not be a problem for everyone, some may get tired from hand cranking, especially if they have to do it for a long period.
If you are planning on having a lot of guests over for frozen drinks, either start shaving the ice and store it way ahead of time, or go for an electric one instead.
Pros
Great price
Easy to use
Portable
Doubles as ice bucket
Durable
BPA free
Quieter than electric ones
Cons
Might get tiring if using for long periods of time
---
Best Commercial Ice Crusher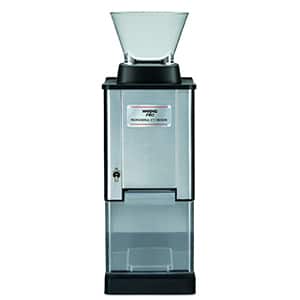 What You Will Love: This commercial ice crusher crushes 30 lbs of ice per hour and holds up to 12 cups of crushed ice.
The brushed stainless steel design of this ice crusher gives it an attractive look. It contains stainless steel blades for easy ice crushing.
The Waring Pro IC70 does not shave the ice down to snow cone size, but it does crush it into rather small pieces. If you have ever gotten a drink from a Sonic restaurant, the size is reported to be similar to their ice.
There are downsides. The price is a bit expensive, especially if you are looking for ice shavings. Also, there have been many reports of it breaking down within a year to 15 months.
Pros
Crushes 30 lbs of ice an hour
Can hold up to 12 cups of crushed ice
Attractive design and tough blades
Cons
Expensive
Breaks down fairly quick
---
Best Sharp Dual Blades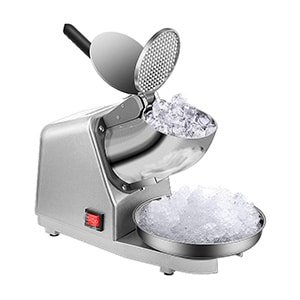 What You Will Love: VIVOHOME electric ice crusher can rapidly make huge amounts of shaved ice to meet even the largest demands. The base operates quietly, with minimal noise and vibration.
Treat your friends and family to tasty snow cones with the VIVOHOME automatic ice shaver. This machine can shave 143 lbs of ice per hour!
Made of Stainless Steel
The VIVA HOME ice shaver comes with a food-grade stainless-steel bowl and blades that are built to last. The machine is rustproof and ensures hygienic conditions for food preparation. The stainless steel case has an elegant and clean design.
Ease of Use
This ice crusher is incredibly easy to use. Just put ice cubes inside, push the on/off button, and you will have crushed ice in a matter of seconds.
Smart and Safe Design
VIVOHOME ice shaving machine features a waterproof "on/off" switch that guarantees safety and convenience. When you open the hopper handle, the blades will stop rotating and the machine will shut off.
Pros:
Made of stainless steel and built to last.
Runs on electric power and is easy to use.
The sturdy base ensures a stable and quiet workstation.
Cons:
A small number of users have complained that small pieces of metal came out with the ice.
---
Best Design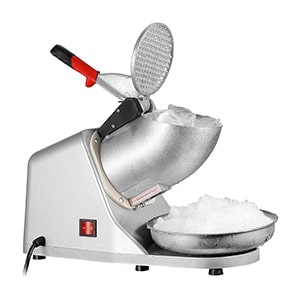 What You Will Love: The ZENY Electric Ice Shaver features a stainless steel blade that crushes large quantities of ice with ease. The stainless steel design makes the product highly durable, and the base is completely waterproof.
The ZENY ice crusher is an excellent choice for both home and commercial use. Its powerful blades will crush up to 145 pounds of ice per hour.
Safe Design
An ice crusher machine can be very dangerous, but this one has been designed with excellent safety mechanisms. The on/off switch is water-resistant, and the blades will not start until the handle is down.
Made of Quality Materials
The ice crusher comes with a food-grade stainless steel bowl for catching the crushed ice. Stainless Steel blades and hoppers are durable and highly resistant to corrosion.
Versatile Application
This ice crusher is not only suitable for making snow cones and frozen drinks at home. Thanks to its incredible efficiency, this crusher is ideal for producing the large amounts of ice necessary for commercial use.
Pros:
Efficient ice crushing machine that can crush up to 145 lbs of ice per hour.
Made from high-quality stainless steel and built to last.
The machine is easy to clean and use.
Cons:
Water sometimes drips out of the machine.
---
Best for Flexibility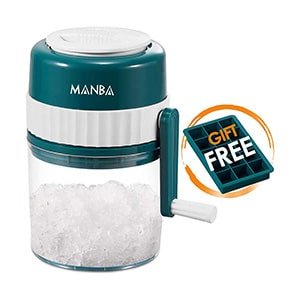 What You Will Love: MANBA Ice Shaver is one of the best manual ice crushers available, thanks to its smooth hand-operated design. The durable stainless steel blade can be used to make perfectly crushed ice cubes or shaved ice cubes for delicious treats.
MANBA manual ice crusher is one of the best for home use. It has a compact and portable design so that you can take it anywhere with you. It features an adjustable ice cube tray for making fifteen perfectly sized cubes.
Four Durable Blades
This manual ice crusher features four stainless steel ice-cutting blades. The blades can shave a large amount of ice much faster and more efficiently than one regular blade.
Easy to Operate
Crushing ice with manual ice crushers is super easy! Just put the ice in the container and start turning the non-slip crank. Manual ice crushers are very safe and can be operated by both adults and children.
Make Cubes & Shaved Ice
You can use this ice machine to make cubic ice blocks or shave it into a fluffy snow-like texture –not many ice machines are this versatile!
Pros:
Features a compact and portable design.
Can be used to make shaved ice and cubes as well.
Equipped with four powerful stainless-steel blades that are rustproof.
Cons:
Doesn't shave ice perfectly; sometimes big chunks remain.
---
Best Manual Ice crusher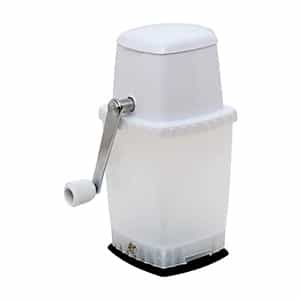 What you will love: Features a double function – if you turn the handle counter-clockwise, you get coarse ice, and if you turn it clockwise, you get finely crushed ice.
This crusher is a perfect choice for you if you want a more portable and quieter option for crushing ice.
Manually Powered
If you don't want to be bothered with cables, buttons, and complicated manuals, this is the ice crusher for you. With a simple turn of a crank, you can make as much ice as you want. Perfect for snow cones and frozen drinks.
Compact and Secure
Its compact size (6" x 4.5" x 9") makes it easy to store and use. The suction base is easy to secure to any smooth, non-porous surface to ensure your safety while turning the handle.
Doubles as Bucket
After you finish shaving ice, you can leave the ice inside the container for convenient storage and use. The container holds up to 5½ cups of crushed ice.
Pros:
Portable and convenient design.
Quieter than electric crushers.
Doubles as bucket.
No electric power is required.
Cons:
Turning the crank can get tiring if used for long periods of time.
---
Best Small Ice Crusher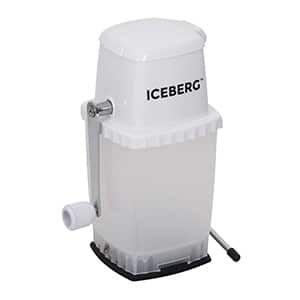 What you will love: With a few simple turns of a handle, you will quickly and easily prepare coarse or finely crushed ice for your favorite beverage or frozen treat.
Time for Treats Iceberg Ice Crusher's compact size makes it a great portable and convenient option when it comes to ice crushing. It is a must-have accessory in any home kitchen.
Versatile and Convenient
This crusher is an essential tool for all kitchens and minibars. Steel blades can crush ice to two different textures – turn the crank clockwise for coarse and counter clockwise for finely crushed ice.
Cooler Than Ice
Make appealing shaved ice for wonderful seafood platters or ice buckets. With this crusher, all your guests will fall in love with your displays of food and beverages.
Universal Mechanism
There is no need for fancy electronic mechanisms, confusing button panels, or unintelligible instructions. Just place the ice into the crusher and turn the ergonomic handle a few times.
Pros:
Simple to use – no cables and buttons.
Suction base for extra stability.
Can hold up to 5 cups of ice.
Cons:
Slow – crushing takes some time.
---
Final Verdict: Best Ice Crushers
All ten options for the best ice crusher listed here are great for making treats and drinks. Look through the options again and research them to determine which is the top ice crusher for you and your family.
More Related Articles
---