Quick Summary: If you are looking for the best shave ice maker without blowing the budget, the Hawaiian Shaved Ice machine is made just for you. It starts with an affordable price, cranks out the good stuff quickly, and offers all the syrups and accessories your kids will love, making it the best-shaved ice machine available.
Are you looking to add a new treat machine for your family celebration and are considering a shaved ice machine? You are in luck! We have pulled together the best shaved ice machine reviews and a buying guide to help you in your search.
Besides, before you spend your hard-earned cash you will want to know what makes a quality machine, which ones might work for your festival booth, and which are safe enough for the kids to use.
We have done all the hard work for you and provided reviews on 10 of the best snow cone machines on the market along with a step-by-step purchasing manual.
In the end, We'll round it all up with our suggestion for the perfect ice shaver for you and your family. Simply read on and discover everything you need to know about the best ice machine available.
Quick Navigation
---
10 Best Ice Shaved Machine Comparisons
| | | |
| --- | --- | --- |
| | Create a health and kid-friendly treat with Hawaiian S900A shaved ice machine. The machine is easy to use and can handle heavy-duty loads, especially during get-togethers. | Read Our Review |
| | A high-quality shaved ice maker that's perfect for kids and a healthier, cheap, and even easier way to make desserts; effortless cleaning up process. | Read Our Review |
| | Make fluffy shaved ice efficiently and quickly with the ZENY ice shaver machine. With its unique design and all stainless steel construction, your fight against rust is over. | Read Our Review |
| | Lightweight, durable Great Northern Shaved Ice Machine nicely shaved ice off the block to produce fluffy and soft ice. This shaved ice machine comes at an affordable price and a premium finishing. | Read Our Review |
| | Rather than spending a lot of money on commercial drinks during summer (or anytime), Hamilton Beach Ice Shaver lets you make iced coffee. | Read Our Review |
| | Best-selling Hawaiian S900A Shaved Ice Machine is an excellent choice for making Hawaiian shaved ice within a few minutes. Comes with bottle pourers, three flavor syrup packs, among other accessories. | Read Our Review |
| | Make some delicious, icy treats in the comfort of your home with Cuisinart Snow Cone Maker. The ice shaver is lightweight and can easily fit on any home counter. | Read Our Review |
| | Enjoy, both kid and adult-friendly, snow cones with the Hawaiian S700 snow cone machines. Snow Cone making has never been this simple and straightforward; with a fast cleanup process. | Read Our Review |
| | A manual snow cone maker that allows you to make party drinks, slushies, snow cones, and any other beverage treats with chipped/crushed ice; long handle design for easy turning. | Read Our Review |
| | Create several refreshing ice drinks by simply filling the ice cube tops, securing the ice shaver's lid, and allowing the snow to fly. | Read Our Review |
---
Reviews of Top 10 Shaved Ice Machines
Best Overall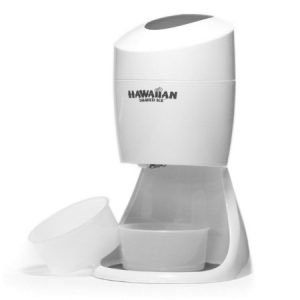 What You Will Love: Finally, a machine that is engineered for everyday use in your home. Priced just right to fit the family budget, this little machine will churn out 3 to 5 servings using one of the molded cakes of ice designed to fit the hopper.
It's the best-shaved ice machine for your kid's birthday party or mixing up a couple of margaritas after a long day at work.
It has an attractive compact design ready to pop into a cabinet and comes with all the molds, blades, and dispensing cups you need to get started.
Now, since is it so well designed for fixing up one or two servings, it simply won't stand up to shaving ice for your church social or even the company picnic. The motor will overheat and burn out.
The lid must be closed before it will start spinning the shaving blade and replacement parts are easy to order. Best of all, the Hawaiian Shaved Ice Machine brand offers up a wide variety of flavor syrups so shopping for refills is fast and easy.
Pros:
Truly designed for home use
Priced right as a fun small appliance
Molds and syrups are easily replaced
Cons:
Struggles to shave ice cubes–really need the molds
Not for constant or commercial use
---
Best Budget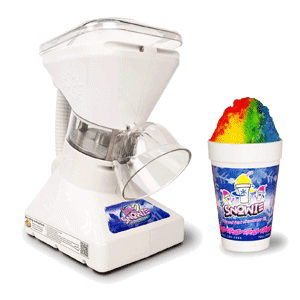 What You Will Love: Little Snowie really did their research before putting this little gem out on the market.It is super fast with a kid-friendly and safe design making this the best-shaved ice machine for a family that wants to share the fun of snow cones with everybody.
It uses ice cubes straight from your freezer and churns out two cups of snowy ice in just about 10 seconds.
It is only 12 pounds and it about the size of your quality stand mixer, allowing you to stow it in a cabinet when not in use.
Now for the reality checks. Considering that it performs its task flawlessly, it is ridiculously expensive for a kitchen appliance, running 8 times the price of units designed for your family.
It is noisy, but that is par for the course. And finally, it isn't exactly a shaver–it actually chips the ice cubes into snow.
That being said, users of the Little Snowie absolutely love their units and some even use these shaved ice machines for their snow cone business.
Pros:
Super fast ice shaving action
Lightweight, safe, and compact design
Conveniently uses ice cubes
Cons:
Expensive for a small home appliance
Noisy operation
Not a true ice shaver
---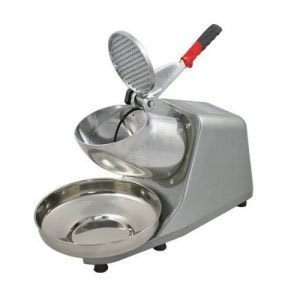 What You Will Love: Sometimes simplicity is the name of the game. ZENY offers up this no-frills option for churning out piles of shaved ice at a very affordable price.
This is the best-shaved ice machine for school groups or community centers looking to add a shaved ice machine to their annual celebrations on a budget.
It features a safety shut off, so the hopper must be loaded with a cake of ice and the plunger manually held in place before the blade will start turning.
It is designed for adult supervision and is not recommended for use by a child. There are a few screws so you can adjust the height of the blade to get a finer or more coarse shave.
Of course, if you are getting a high-volume machine for under fifty bucks, you might expect a few flaws. Make sure to put down paper or regular towels under the unit, as the catch-plate won't collect all the shavings.
You may need to experiment to get a shallow bowl that will work better. It will not work with ice cubes and you will either need to mold your ice to fit the hopper or chip off hunks off your block. It does come apart for easy cleaning.
Pros:
Low price
Safety switch prevents accidental injury
Adjustable shaving height
Cons:
Must use molded block ice–molds not included
Dispenses shaved ice all over the counter
Quality control is questionable
---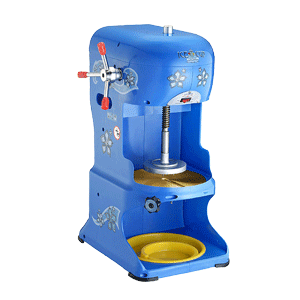 What You Will Love: Okay, are you going into business or need a reliable unit for the two-week county fair? Then you need a shaved ice machine designed for the concession and commercial food industry.
Great Northern in know for their poppers, and now offer this unit that can crank out 6 pounds of shaved ice every minute.
You might have trouble keeping up with it, making it the best shaved ice machine when preparing to treat hundreds of guests to a flavored snack in a short amount of time.
You can either have the ice dispense directly into a cup for serving, or scoop mounds into a food-quality bucket so your serving line can scoop the cones while you keep shaving.
It does not come with a safety shield and only adults should use this machine. As the block of ice is shaved, use the hand crank on the side to maintain pressure on the blade to ensure constant production.
There is an optional foot pedal so you can turn on and off the blade if you are the only person working at your concession stand. You are paying more, but are receiving a unit that is designed for the foodservice industry.
It is not a portable unit, weighing over 50 pounds, so choose your point of installation wisely.
Pros:
Commercial grade unit for food service industry
Convenient food pedal upgrade available
Produces up to 350 pounds of shaved ice an HOUR
Cons:
No safety shield
Heavy–not portable
High price point
---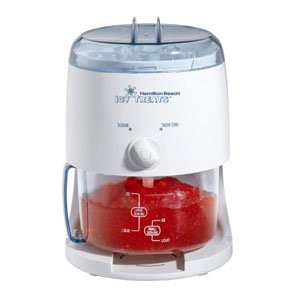 What You Will Love: Now, for the budget-conscious individual, you might be tempted to pick up the nicely priced Hamilton Beach machine. And you probably shouldn't.
If you are looking for the best-shaved ice machine to buy for a mid-summer party, and don't expect to use it again, this just might fit the bill.
It accepts ice cubes in its top hopper and dispenses them in your bowl that hopefully fits beneath the chute. Turn it to snow cone or slushie settings and then flip the switch and wait.
It will make some very alarming noises while it slowly chews up the cubes into smaller bits. Your kids might enjoy watching the bowl fill up, but you have better things to do. It does come apart for easy and thorough cleaning and will fit into almost any nook in your kitchen.
Since you only spent a few dollars on it, it won't make you feel guilty about wasting all that cash when it doesn't quite stand up to expectations.
Pros:
Affordable price
Uses ice cubes
Small size
Cons:
Very slow
Noisy
Small capacity
---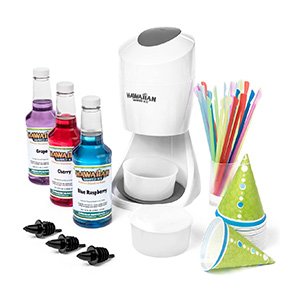 What You Will Love: The Hawaiian Shaved Ice machines come with three black bottle pourers, spoon straws, two-block ice molds, three flavors, a non-skid mat, and 25 cone cups. You also get some of the best flavor syrups that include blue raspberry, cherry, and grape.
The snow cone machine lets you make a scrumptiously looking ice shaving within a few minutes – really vital if you want to hold a party at your house.
These Hawaiian shaved ice machines are simple and straightforward to use. They have heavy-duty designs that allow them to withstand heavy use, making them effective for home and commercial use. The machines are made from BPA-Free plastic, which makes them safe for use by anyone.
It has adjustable blades that allow you to easily replace a blade once it wears out or becomes dull. The blades are sharp to make the shaved ice fluffy. Typically, dull blades produce crushed ice that doesn't hold the flavored syrup.
It has a strong motor that continuously converts electrical power to mechanical energy; which is why you should expect the best from the snow cone machine. Although the machine can work for long hours due to its strong motor and easy cleaning process, ensure you wipe it dry after use or before storing it.
Pros:
Compact design that fits into any kitchen
Yummy flavor
High-quality and durable blades
Easy to use
Cons:
You have to wait for some time for water to freeze
Can easily overheat
---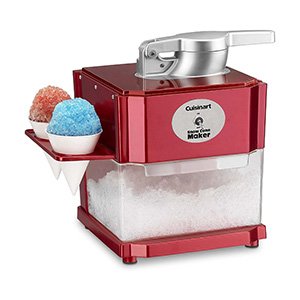 What You Will Love: The Cuisinart SCM-10 has one of the most powerful motors and comes in an elegant cherry red color. It has a foldable shelf that can easily fit two different snow cones for fast preparation. Moreover, the unit is also lightweight and compact and can be easily moved around in the kitchen.
It comes with a tray that allows fast and easy operation of the unit along with cone holders for your snow cone. The unit also has a removable ice bin that is easy to clean after every use.
The Cuisinart Shaved Ice Machine can make up to 5 snow cones in 60 seconds, which is pretty fast compared to other shaved ice machines. You only need to put the ice cubes, let the machine shave and serve your team, friends, or family members.
The unit is lightweight and can be moved from one location to another quite easily. Its ability to produce 4-5 snow cones per minute and lightweight nature makes it perfect for commercial use.
Pros:
Durable construction
Fast and safe operation
Attractive design
Well-known and trusted brand
Made of stainless steel
Cons:
The machine may not work if you put too many ice cubes in it
---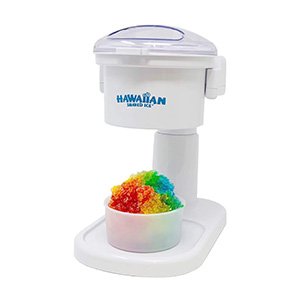 What You Will Love: This machine is probably the best budget-friendly shaved ice machine you can get in the market right now. Hawaiian offers a selection of cone flavors such as strawberry, banana, and cherry; as well as mature varieties of root beer and pina colada. It has stainless steel blades and a 55W motor.
The machine comes with a wide variety of add-ons like snow cone cups, ice molds, and black bottle pourers. These add-ons help make your shaved ice preparation process seamless.
Regardless of its price, the device is generally one of the best when it comes to quality and functionality. The snow cone machine can also be used by kids whenever parents or guardians aren't around.
It is a compact size with dimensions of 6.5" length, 10.5" diameter, and 10.12" height. Its compactness makes it easy to carry around and conveniently fit it in your kitchen counter.
As such, if you want a machine that can help you make wonderful treats from your ice blocks, try the Hawaiian Kid-Friendly Shaved Ice Machine.
Pros:
Very affordable
Compact
Lightweight
Easy to use and clean
Cons:
Not the best for commercial operations
---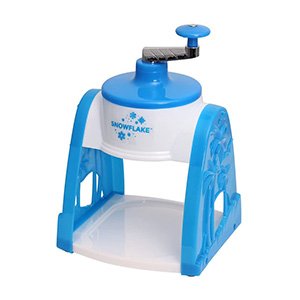 What You Will Love: This avalanche ice shaver produces the best party drinks, stylish slushies, among other frozen drinks. The device is easy to operate and makes minimal sounds when it's working. It generally produces great results because it shaves to small sizes.
The blades for this machine are made from sharp stainless steel, so they can resist nicking, scratching, and denting.
In case the blades are worn out, or they become dull, they can be easily replaced. The blades are also adjustable.
The machine offers increased safety to its users because its motor only works when the lid of the unit is closed. This is vital in avoiding accidents while using the machine.
This ice shaver can use ice cubes of regular shapes; it doesn't require specific molds of ice. It's due to this factor that the machine is considered effective under any circumstances.
Pros:
Works without producing a lot of noise
Easy to clean and operate
Best ice shaver for home use – kid-friendly
Produced well-sized and shaped ice shavings
Cons:
The machine can sometimes take time to shave
---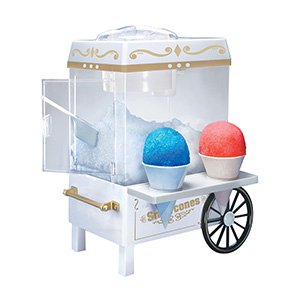 What You Will Love: It has a built-in on/off switch that allows you to control the machine as you may wish. The machine also comes with several recipes and instructions to help you learn how to use it.
If you're looking for an easy to use and transport shaved ice machine, you need to consider the Nostalgia Vintage Snow Cone Maker.
The Nostalgia Vintage Shaved Ice Machine has a fun-wheel that lets you move it anywhere you want. It's a great option for not only those looking to serve several people at an event but also making shaved ice for kids at home.
The cone maker has a detachable plastic holder that carries extra snow cones. This is quite effective when you've made some snow cones but still want to make more.
Almost anyone can use and operate the machine; you only need to put ice in it and switch on the machine. It's as simple as that and doesn't require any learning process. For safety purposes, always ensure you operate the machine when its lid is closed.
Pros:
Can produce up to 20 snow cones
Best for both home and store use
Convenient and simple switch button
Sharp stainless steel blades
Cons:
Doesn't make snowy and super-fine ice
Relatively loud
---
Features Of The Best Shaved Ice Machine
When shopping for the best-shaved ice machine available, you will want to look for these key features to help you avoid buying a real lemon.
Ice Blocks Or Ice Cubes
If you are buying a machine to make snow cones for the kids every once in a while, you might want the convenience of a snow cone machine that uses cube ice right out of your freezer.
If you intend on offering frozen treats for your neighborhood block party, a shaver that uses blocks of ice works faster and is actually quieter.
Safe Operation
Look for a safety shield on your ice shaver. These ice shaver machines work by spinning a blade and literally slicing off thin sheets of ice.The machine should have a fail-safe that prevents the blade from spinning unless the top is closed or pressure applied to an ice block.
Easy-to-Clean
Make sure that the hopper, blade, and dispenser chute are all easy to take apart and clean. While it is only ice you are using, if the snow cone machine is not cleaned before storage, you can end up with mildew and mold.
---
How To Choose The Best Shaved Ice Machine?
Now that you know which features you will want at the top of your list, what else do you need to know?
Of course, you will want to check out some shaved ice machines reviews, but you need a starting point before overflowing your mind with too many options. Let's consider some highlights to help whittle down the choices.
Which Brands Are The Best?
The Hawaiian Shaved Ice brand is one of the best-shaved ice machines for home use, with a great reputation and reasonable pricing. Other runners in the crowd are ZENY, Great Northern Popcorn Company, and Little Snowie.
Made For The Home Or Commercial Grade
A quality commercial grade unit will cost considerably more than one made for the home, but it will be able to turn out 50 to 100 servings in an hour.
Low-priced units with high output should not be expected to last beyond a single summer of steady use, as the motor is more likely to wear out. A budget for your buy appropriately.
Gravity-fed Or Pressurized Ice Hopper
Look for a pressurized hopper instead of gravity fed. If the spinning blade is trying to shave a pile of ice molds, it is just going to keep shifting the ice around with slow and disappointing results.
The pressure ensures the blade is kept in constant contact with the ice, delivering a constant flow of fluffy shaved ice to the collection plate.
Electric Motor or Manual Crank
It is possible to find ice shaving machines without an electric motor, just know that you will be cranking away all afternoon instead of chatting with friends.
A manual version is a great option for parties at the state park, where power isn't so easy to find. Otherwise, you will want to check for at least 1/3 horsepower and high RPMS to shave through as much ice as possible.
Easy To Store And Set Up
Remember the food processor with 20 attachments, blades, chutes, and parts? Look for a unit with a simple design that is ready to store in an instant so you will never hesitate to bring it out for family celebrations.
---
We hope you have enjoyed reading our shaved ice machine reviews and hope they have helped you find the product that best suits your requirements.
Related Articles