[lmt-post-modified-info]
The kitchen is a place we all love to go, whether to prepare delicious meals or simply to grab something to eat. However, it can also be a dangerous place due to the many appliances and other things we have in our kitchens.
Kitchen safety is therefore essential if you want to avoid unnecessary accidents or mistakes.
In this article we cover
Essential Kitchen Safety Tips
Anyone can get injured in the kitchen if necessary precautions are not taken. Below are some essential safety kitchen tips that can help you to prevent accidents in the kitchen.
It is always important to make sure that your stoves, burners and ovens are working properly. If you use a gas stove, make certain that you check to see if there are leaks on a regular basis.

Also make sure that the pilot lights are functioning well.

Make it a point that you dispose of any appliance in your kitchen that is damaged or broken. You will find that nowadays, you can get very reasonably priced kitchen appliances.

However, if you see that buying a new one would strain your budget, you can go to garage and tag sales and buy an appliance that is not damaged or broke.

Avoid leaving pans and pots cooking on the stove in your kitchen, especially if you use a gas stove. Make certain that you turn off the appliance prior to leaving the room.
You should not keep things such as pot holders, dish towels and oven mitts near the stove.
If for some reason you make use of candles in the kitchen, make sure that you don't go anywhere and leave them burning. Make certain that you put them in a safe place such as flame proof containers.
Make sure that the heaters or vents in your kitchen are not being blocked by things such as curtains and dish towels.
You should always have a fire extinguisher in the kitchen or nearby. However, it must not be kept close to the stove or the heater.

In the event that you experience a grease fire and you do not have a fire extinguisher, you can also use salt or baking soda instead.

You should always handle knives properly in the kitchen. Make it a point that when cutting you do so away from your body. Make use of a cutting board at all times and never try to grab a knife as it falls.

The blades must always be sharp and when you wash the knives, the sharp edges must always be away from your hands.

To avoid slipping and falling, make sure that you avoid walking on wet kitchen floors. As soon as you spill something on the floor, clean it up immediately.
Also ensure that you do not have loose handles on your pots and pans. If you notice that they are wobbly, simply tighten them. If on the other hand, you cannot fix them, just throw them away.
Kitchen Electrical Appliance Safety
When it comes to kitchen safety, you must also take precautions when handling the actual appliances. You can avoid hazards that might be caused by kitchen appliances in the following ways: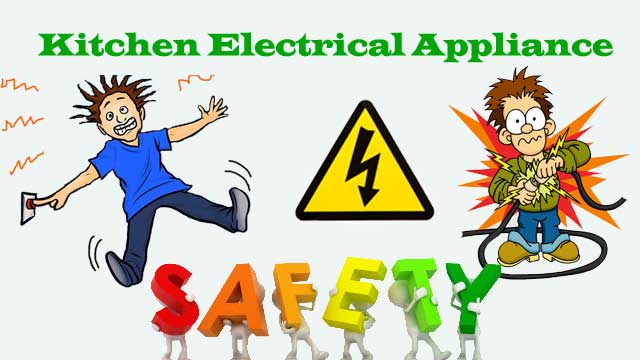 Make certain that all the plugs, cords and wires that are on the kitchen appliances are not unraveled. Also opt for plugs that have a 3-prong grounded connection.
Avoid the use of extension cords. Rather opt for a junction box that comes with built in ground fault interrupters.

That way, you can have more plug space, and in the event that you experience a power shortage, the ground fault interrupters will kick in. This helps to prevent electrical/water shock incidents.

If possible, when using an electric stove, make use of back burners. This is important especially where children are concerned. Children can easily reach up and grab a pan or pot on the stove and spill hot contents over themselves.

So, you want to make sure that you avoid such accidents. If you absolutely must use a front burner, make sure that the pot handles are turned towards the back so that your kids will not be able to reach them.

Make sure that you put childproof covers on the stove and toaster oven knobs. Alternatively, you can remove the knobs completely from the stove. That way, your child will not be able to turn on the burners or oven easily.

You can store the knobs where your child cannot reach. For additional safety, make use of a stove guard. This will help to prevent little children from touching surfaces that are hot.

Make it a point that you check for any hot surfaces. You will find that some contraptions are poorly insulated. As a result, the outside of the appliance can get so hot that it might cause burns.

So for instance, if you are roasting something in the oven, check the outside to make certain that it is not hot, but warm to the touch.

If you notice that whenever you roast something, the outside is hot to the touch, install a safety gate each time you use the oven.

Also, make sure that you turn off the oven when you are not using it and do not use it for heating the room.

When you are using the oven and there are children around, avoid opening the door when they are standing by. Because children are curious and unaware, they might just touch the inside of the door and get burnt.
Confiscate refrigerator magnets. Little children can easily choke on small items. Plus, children find colorful objects such as refrigerator magnets quite enticing.
Do not leave sharp utensils such as knives in the dishwasher. Chances are that your child always sees you putting things in and out of the dishwasher, and he will want to follow suit.

If you need to wash those items in the dishwasher, make certain that they are pointed downwards, and remove them immediately after they have been washed. Remove items that break easily immediately as well.
Kitchen Safety for Children
If you have young children, childproofing your kitchen is extremely important. This is because children naturally have this innate curiosity. As they will be in the kitchen, you can be certain that they will want to touch things and also participate in whatever you will be doing.
Plus, when you are busy in the kitchen, sometimes you might give your child divided attention. That is why it is necessary to minimize the risks.
Here is how you can avoid hazards: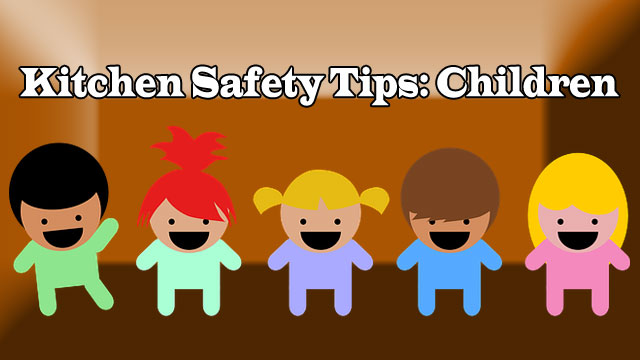 Make sure that you check for any sharp corners or edges. Put protective guards or cushioning on such areas because your kids can easily bang their heads and get injured.
Also make certain that all the door knobs and handles are secured. All the kitchen cabinets and cupboards that have medicines and cleaning supplies must have a childproof lock.
All the electrical outlets in the kitchen must be sealed off with safety plugs.
The kitchen floors must be kept skid-proof. This means that you must make sure that you clean spills straight away and also make use of non-skid rugs.
Some spices are toxic, so make sure that all your spices are not within the children's reach.
Children will want to touch and play with anything, including the trash can. So, opt for a child-resistant trash can. Alternatively, you can put the trash can behind closed doors.

Also, before throwing away plastic bags in the trash, make sure that you tie them in a knot first.

All your waxed paper, plastic wrap dispensers and aluminum foil must be kept away from kids. Their little fingers can easily get cut by the ragged edges on the boxes.
If you have alcohol in the kitchen, make certain that it is securely stored in a place where your kids cannot reach. In the event that you have a party, always empty all the glasses afterwards.
Coffee Makers at places were children cannot reach easily as some of these are fragile and even if you have the best super automatic machine, they tend to give very hot outputs.
Make sure that there are no items on the floor such as toys.
Keep anything that can cause harm to your child out of reach, including matches and lighters.
First Aid Treatment and Tips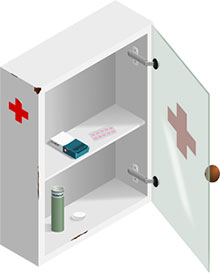 Accidents can occur in the kitchen and it is always wise to be prepared for them.
Obviously, the best way to avoid such accidents is to take the necessary precautions to make sure that you have a healthy and safe kitchen environment.
However, if an accident in the kitchen does occur, you must be prepared for it. One of the best ways to do that is to have a properly stocked first aid kit.
Having a well-stocked first aid kit can actually help to minimize the severity of an injury. Apart from having a checklist of all the items in the kit, also keep additional burn gel, adhesive bandages and gauze on hand because these are the thing you are most likely to use.
Burn:
When it comes to first aid for burns, there are several things that you must know. The important thing to know is that as you stop the burning process, you must also take your own safety into account.
In spite of your best efforts, if you or your family member suffers a burn in the kitchen, apply these first aid tips:
If you are on fire, stop-drop-cover and then roll. If it is electrical, just turn off the current. If it is a chemical burn, quickly get rid of the burning agent and then rinse with water.

As soon as you get a burn, apply cool running water for about 20 to 30 minutes.

Do not apply butter, ice, floppy cotton dressing, cream, oil or spray over the burn. Instead of all these, use toothpaste you will feel relieved. It will act as magic. You will get no burn stain and feel no pain of your wound
If you notice that the skin is not stuck to clothing and if there are no blisters, remove the wet clothing carefully. Also, remove jewelry and watches as burns can cause swelling, hindering circulation.
Soak the burned water into the cool water or cover it with a clean, wet towel.
Protect the burn from being pressurized or friction.
If you are applying first aid on someone who has severe burns or whose burns cover a large area, call doctor or ambulance right away.
You can read: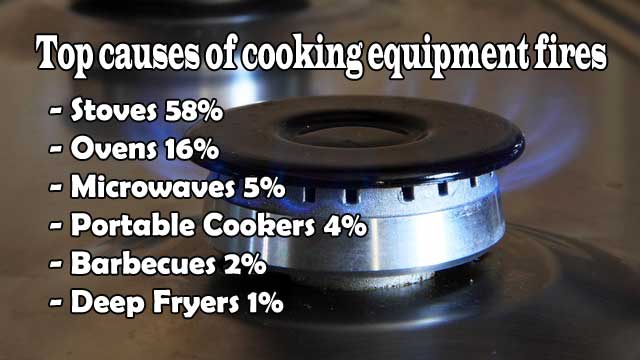 Cuts in the Kitchen
Cut your hand or a finger in the kitchen is very common incidents in our everyday life. Scarcely can you see people who go kitchen and never get cut.
However, it can be prevented if you will be careful while cutting or chopping vegetables or any other things in the kitchen and also maintain some safety rules.
Despite maintaining safety rules, if you cut or get injured, follow these following instructions as a first aid treatment. The instructions are –
Clean your hand with soap and fresh warm water.
Try to control bleeding. After stop bleeding never wash your hand otherwise it may start bleeding again.
Drink two glasses of water, if you had too much bleeding.
Use germ cleaner with fresh, clean cotton and clean the wound properly and bind it with clean gauge applying antiseptic cream lightly.
If it cuts more than a centimeter contact with the doctor immediately.
Kitchen safety is something that must be taken seriously in order to avoid accidents. Make sure that you follow all the tips discussed above so that if possible you can protect you and your loved ones from kitchen accidents.